Inherit the Wind (Jun-1960)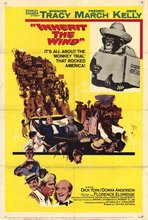 Director: Stanley Kramer
Writers: Nedrick Young; Harold Jacob Smith
From a play by: Jerome Lawrence; Robert E. Lee
Music: Ernest Gold
Producer: Stanley Kramer
Keywords: Drama, Monkeys, Courtroom




Dramatization of the Scopes Monkey Trial, where religion and science battle in the courtroom after a high school biology teacher is accused of the dastardly crime of teaching evolution. Because participants were still alive, names of the leading characters were changed. Spencer Tracy won the Best Actor Oscar, and the film received three additional nominations.
| Name | Occupation | Birth | Death | Known for |
| --- | --- | --- | --- | --- |
| Claude Akins | Actor | 25-May-1926 | 27-Jan-1994 | Misadventures of Sheriff Lobo |
| Noah Beery, Jr. | Actor | 10-Aug-1913 | 1-Nov-1994 | Rocky on The Rockford Files |
| Jimmy Boyd | Singer | 9-Jan-1939 | 7-Mar-2009 | I Saw Mommy Kissing Santa Claus |
| Norman Fell | Actor | 24-Mar-1924 | 14-Dec-1998 | Mr. Roper on Three's Company |
| Paul Hartman | Actor | 1-Mar-1904 | 2-Oct-1973 | Emmett Clark on Mayberry R.F.D. |
| Gene Kelly | Actor | 23-Aug-1912 | 2-Feb-1996 | Singin' in the Rain |
| Fredric March | Actor | 31-Aug-1897 | 14-Apr-1975 | The Best Years of Our Lives |
| Harry Morgan | Actor | 10-Apr-1915 | 7-Dec-2011 | Col. Sherman T. Potter on M*A*S*H |
| Elliott Reid | Actor | 16-Jan-1920 | 21-Jun-2013 | Gentlemen Prefer Blondes |
| Hope Summers | Actor | 7-Jun-1896 | 22-Jun-1979 | Clara Edwards on The Andy Griffith Show |
| Ray Teal | Actor | 12-Jan-1902 | 2-Apr-1976 | Sheriff Roy Coffee on Bonanza |
| Spencer Tracy | Actor | 5-Apr-1900 | 10-Jun-1967 | Two consecutive Best Actor Oscars |
| Dick York | Actor | 4-Sep-1928 | 20-Feb-1992 | Darrin #1 on Bewitched |
CAST
REVIEWS
Review by Anonymous (posted on 20-Aug-2007)
Excellent film based not so much on the actual Scopes trial but on the play "adaptation" of the actual events. The play (and the film for that matter) was made as a critique of McCarthyism and the Cold War climate of the time, not so much as a direct foray into the Religion/Politics debate. Stanley Kramer's direction is overly theatrical and it works. Spencer Tracey and Fredic March are both superb in their respective roles as Clarence Darrow and Matthew Harrison Brady (a fictionalized William Jennings Bryant). The film illustrates the dangers of fanaticism using religous fervor as a primary example. The film does not promote atheism over religion, nor Darwinism over creationism, rather it tries to explore the dangers of suppression of free thinking. Kramer would follow this film with another courtroom drama, the classic Judgment at Nuremberg.
---
Review by anonymous (posted on 12-Feb-2007)
The film did a good job of stereotyping southern Christians as boobs and fanatics, without properly addressing the philosophical issues that Darwin's theory of evolution raised. For example, it provided the intellectual justification for eugenics, population control, forced sterilization and genocide. (There exists nothing in science or Darwinism that condemns genocide as bad. Genocide follows logically from the theory.) It falsified the original Scopes trial, but most viewers will never learn that. But, as a Hollywood movie, it was good entertainment. So, who is going to criticize good entertainment?
---
Do you know something we don't?
Submit a correction or make a comment about this profile

Copyright ©2019 Soylent Communications