Pride & Prejudice (11-Sep-2005)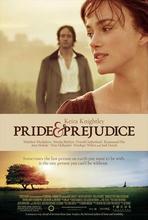 Director: Joe Wright
Writer: Deborah Moggach (screenplay)
Based on a book: Pride and Prejudice by Jane Austen
Keywords: Romantic Drama




Film adaptation of the Jane Austen classic of the same name tells a tale of love complicated by class differences.
ABSTRACT
Commoner Mrs. Bennet raises her five daughters -- Elizabeth, Jane, Kitty, Lydia, and Mary -- in Georgian-era England, instructing each of them to marry a wealthy suitor with a view to providing for their family and allowing them to move up the class ladder in a rigid society. A wealthy bachelor by the name of Mr. Bingley arrives in town not too long after Elizabeth -- now a strong-willed woman -- reaches an appropriate age for marriage, bringing the handsome and snobbish Mr. Darcy along with him. What follows is a time-worn tale of love separated by socioeconomic differences, as Elizabeth and Darcy begin to fall for one another despite their opposing backgrounds.
REVIEWS
Review by anonymous (posted on 31-Oct-2006)
I have seen the BBC's pride and prejudice and Joe Wright's version and I can say that I enjoyed Mr. Wrights far more. He found a fresh new way to captivate his audience. A realizism that made me laugh and cry. From the opening scene at the assembly hall I watched as if I were actually there. I found Ms. Knightly enchanting and real she brought a different side of Lizzie to light, she has pride yes, but insight and depth. I found myself watching her every movement in utter belief. As in the case of so many actors today they lack realizism but Ms. Knightly's portrayal of Elizabeth Bennett was true to form. This is a great actress and will be around for quite sometime. As for Matthew McFadyen there is only one word to describe him and that is perfection. He is in these viewers' eyes the perfect Mr. Darcy. He showed probably a more honest side to Mr. Darcy that no one to date has done and that is the shy and insecure side. Which, after reading Pride and Prejudice in my English class many years ago I believe Mr. Darcy to be. Mr. McFadyen needs to do so little to get the point across. His blue eyes hold you breathless and longing for a man as nearly perfect as he is. From the moment he arrives on the screen to the very end when he is amazed that he has finally captured his Elizabeth you hang on his every word. You long for his suffering to end and rejoice in his winning his true love. The cast was well balanced and terrifically cast. Hats off to Brenda Blethem, Donald Sutherland and Judy Dench. These actors only heighten the beauty of this movie. The scenery was breath taking and made me long for countryside as beautiful and rich as that of Ms. Lizzie Bennett's. Final notes go to the music of this movie. It was perfect, romantic and powerful. It was a pleasure to listen to, the music carried me away. All these things together added up to perfection. I strongly recommend this movie to even those die hard Jane Austen/Colin Firth fans that refuse to watch on the basis of principal; even you will fall in love once more with Lizzie and Darcy.
---
Do you know something we don't?
Submit a correction or make a comment about this profile

Copyright ©2019 Soylent Communications