A Midsummer Night's Dream (9-Oct-1935)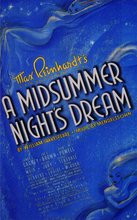 Directors: William Dieterle; Max Reinhardt
Writers: Charles Kenyon; Mary C. McCall, Jr.
From a play: A Midsummer Night's Dream by William Shakespeare
Keywords: Comedy




An assortment of young lovers fall asleep in an enchanted forest, while a group of other Athenians rehearse a play for an upcoming wedding. Yes, Jimmy Cagney does Shakespeare (though much of the time with a donkey head). Olivia de Havilland's first film; exceptional performance by Mickey Rooney at age 14. An absolutely magical production of his play, never equaled. Won Oscars for Best Cinematography and Best Editing; received additional nominations for Best Picture and Best Assistant Director.
| Name | Occupation | Birth | Death | Known for |
| --- | --- | --- | --- | --- |
| Ross Alexander | Actor | 27-Jul-1907 | 2-Jan-1937 | Captain Blood |
| Billy Barty | Actor | 25-Oct-1924 | 23-Dec-2000 | High-profile little person |
| Joe E. Brown | Actor | 28-Jul-1892 | 6-Jul-1973 | Some Like It Hot |
| James Cagney | Actor | 17-Jul-1899 | 30-Mar-1986 | New York tough guy |
| Hobart Cavanaugh | Actor | 22-Sep-1886 | 27-Apr-1950 | A Midsummer Night's Dream |
| Olivia de Havilland | Actor | 1-Jul-1916 | | Gone With the Wind |
| Hugh Herbert | Actor | 10-Aug-1884 | 12-Mar-1952 | Hellzapoppin |
| Ian Hunter | Actor | 13-Jun-1900 | 23-Sep-1975 | The Adventures of Robin Hood |
| Victor Jory | Actor | 23-Nov-1902 | 12-Feb-1982 | Cat-Women of the Moon |
| Anita Louise | Actor | 9-Jan-1915 | 25-Apr-1970 | The Little Princess |
| Frank McHugh | Actor | 23-May-1898 | 11-Sep-1981 | The Roaring Twenties |
| Grant Mitchell | Actor | 17-Jun-1874 | 1-May-1957 | Father Is a Prince |
| Dick Powell | Actor | 14-Nov-1904 | 2-Jan-1963 | The Bad and the Beautiful |
| Mickey Rooney | Actor | 23-Sep-1920 | 6-Apr-2014 | Actor in Andy Hardy comedies, musicals |
| Verree Teasdale | Actor | 15-Mar-1904 | 17-Feb-1987 | A Midsummer Night's Dream |
| Arthur Treacher | Actor | 23-Jul-1894 | 14-Dec-1975 | The Merv Griffin Show |
REVIEWS
Do you know something we don't?
Submit a correction or make a comment about this profile

Copyright ©2019 Soylent Communications