Feast (14-Oct-2005)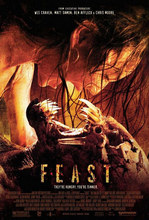 Director: John Gulager
Writers: Marcus Dunstan; Patrick Melton
Keywords: Horror




Patrons of a creepy rural bar defend themselves against vicious beasts intent on their demise.
ABSTRACT
Nameless patrons of a rural watering hole enjoying their drinks are interrupted by the arrival of a blood-covered man warning of impending doom at the hands of vicious beasts. His pleas fall on deaf ears; he is soon killed by one such beast when he is decapitated through a window, followed by the arrival of his now-widowed wife. What follows is a parody of "gotcha" horror films as the panicked customers race to board up the bar's windows, eventually forced to face hordes of the bloodthirsty -- and, apparently, sex-crazed -- beasts as the bar falls under attack.
REVIEWS
Review by anonymous (posted on 28-Jan-2007)
This was a horror/comedy and a bucket of blood movie. The Project Greenlight folks had an original idea, and they ran with it.A low budget shocker that breaks many of the rules of horror, as they set out so deliberately to do. The slight over acting is spot on, and the pacing is as expected. Vicious mutants, or more probably aliens (it is not explained) attack a watering hole filled with various types of barflys, and try to pick them off one by one. Whilst our patrons, sans weapons or even a working phone have to cope. Much in the vein of "From dusk till dawn" you can't expect help, or even a rational approach to the problem, (I found myself shouting at the screen, "SHOOT, SHOOT. and Not near the window!!!!!) Much gore and just enough humor here!!!! Fair extras, as well!!!
---
Do you know something we don't?
Submit a correction or make a comment about this profile

Copyright ©2019 Soylent Communications