Inside Out (18-May-2015)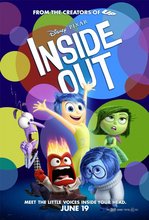 Directors: Pete Docter; Ronnie Del Carmen
Writers: Josh Cooley; Ronnie Del Carmen; Pete Docter; Meg LeFauve
Keywords: Comedy




Anthropomorphized emotions go haywire inside a young girl's mind when her family moves to California.
ABSTRACT
Hockey-loving Riley's family relocate to San Francisco from her native Minnesota when her father accepts a lucrative job offer, leaving her in a state of shock and confusion. We go inside Riley's mind to find anthropomorphized versions of her five driving emotions -- Joy, Sadness, Fear, Anger, and Disgust -- and follow the effervescent Joy as she tries to restore order when chaos breaks out in Riley's head.
A heart-tugging story and cute animation mark a return to form for Pixar.
| Name | Occupation | Birth | Death | Known for |
| --- | --- | --- | --- | --- |
| Carlos Alazraqui | Actor | 20-Jul-1962 | | Deputy Garcia on Reno 911! |
| Lewis Black | Comic | 30-Aug-1948 | | Rants on The Daily Show |
| Flea | Bassist | 16-Oct-1962 | | Bassist for Red Hot Chili Peppers |
| Bill Hader | Actor | 7-Jun-1978 | | Saturday Night Live |
| Rashida Jones | Actor | 25-Feb-1976 | | Ann Perkins on Parks and Recreation |
| Mindy Kaling | Actor | 24-Jun-1979 | | Kelly Kapoor on The Office |
| Richard Kind | Actor | 22-Nov-1956 | | Paul Lassiter on Spin City |
| Diane Lane | Actor | 22-Jan-1965 | | A Walk on the Moon |
| Dawnn Lewis | Actor | 13-Aug-1961 | | A Different World |
| Kyle MacLachlan | Actor | 22-Feb-1959 | | Agent Cooper on Twin Peaks |
| Laraine Newman | Comic | 2-Mar-1952 | | Original member of Saturday Night Live |
| Frank Oz | Actor | 25-May-1944 | | Yoda, Miss Piggy, and The Stepford Wives |
| Amy Poehler | Actor | 16-Sep-1971 | | Leslie Knope on Parks and Recreation |
| Paula Poundstone | Comic | 29-Dec-1959 | | Asexual comic |
| John Ratzenberger | Actor | 6-Apr-1947 | | Postman Cliff Clavin on Cheers |
| Peter Sagal | Radio Personality | 31-Jan-1965 | | Wait Wait... Don't Tell Me! |
REVIEWS
Do you know something we don't?
Submit a correction or make a comment about this profile

Copyright ©2019 Soylent Communications