Jupiter Ascending (27-Jan-2015)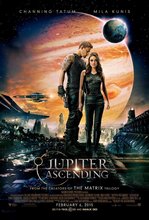 Directors: Andy Wachowski; Lana Wachowski
Writers: Andy Wachowski; Lana Wachowski
Keywords: Sci-Fi




A hapless young Chicago woman enters into cosmic conflict when she learns of her intergalactic nobility.
ABSTRACT
Jupiter Jones, a put-upon attractive young woman in contemporary Chicago, spends her days toiling away at thankless work as a janitor while contending with the demands of her overbearing Russian family. Peculiar events herald the arrival of Caine Wise, a half-human/half-wolf bounty hunter who places Jupiter at the center of a great cosmic war after informing her of her claim to the throne of intergalactic royalty.
An all-star cast and impressive visuals cannot save this ambitious Cinderella-esque space opera by the creators of The Matrix from collapsing under the weight of its jumbled, self-serious narrative.
REVIEWS
Do you know something we don't?
Submit a correction or make a comment about this profile

Copyright ©2019 Soylent Communications