In the Cut (9-Sep-2003)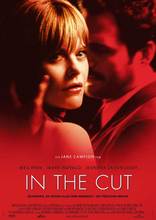 Director: Jane Campion
Writers: Jane Campion; Susanna Moore
From novel: In the Cut: A Novel by Susanna Moore
Music Composed by: Hilmar Ö Hilmarsson
Producers: Laurie Parker; Nicole Kidman
Keywords: Erotic Thriller




A New York City teacher entertains a risky relatoinship with a detective investigating a recent murder in her neighborhood.
ABSTRACT
Enigmatic New York-based English teacher Frannie Avery possesses a fascination with sex despite her long-standing inability to get it from worthwhile men. Fearful for her safety in the aftermath of a grisly murder occurring near her apartment, Frannie decides to test her limits by engaging in a passionate affair with James Malloy, a tough-as-nails homicide detective who draws her into a tryst marked with danger and intrigue as she grows suspect of his innocence in the very crime he is tasked with investigating.
CAST
Meg Ryan
... Frannie
Mark Ruffalo
... Det. Malloy
Jennifer Jason Leigh
... Pauline
Nick Damici
... Det. Rodriguez
Sharrieff Pugh
... Cornelius Webb
Micheal Nuccio
... Frannie's Young Father
Alison Nega
... Young Father's Fiancee
Dominick Aries
... Attentive Husband
Susan Gardner
... Perfect Wife
Heather Litteer
... Angela Sands
Daniel T. Booth
... Red Turtle Bartender
Yaani King
... Frannie's Student
Frank Harts
... Frannie's Student
Sebastian Sozzi
... Frannie's Student
Zack Wegner
... Frannie's Student
Patrice O'Neal
... Hector (Baby Doll Bouncer)
Funda Duval
... Baby Doll Bartender
Theo Kogan
... Baby Doll Bartender
Sandy Vital
... Baby Doll Dancer
Sharon Riggins
... Baby Doll Dancer
Karen Riggins
... Baby Doll Dancer
Nancy La Scala
... Baby Doll Dancer
Ami Goodheart
... Baby Doll Dancer
Upendran Panicker
... Taxi Driver
Kendra Zimmerman
... Cafe Waitress
Michelle Hurst
... Teacher at Frannie's School
Sunrise Coigney
... Frannie's Young Mother
Hal Sherman
... Forensic Detective
Dana Lubotsky
... Laundry Room Murder Witness
Jacinto Taras Riddick
... Detective in Precinct
Arthur Nascarella
... Capt. Crosley
James Firo
... Det. Halloran
Cordell Clyde
... Informer
Tim House
... Baby Doll Bar Customer
Julius Le Flore
... Cursing Motorist
Vinny Vella, Sr.
... Concerned Bystander
REVIEWS
Review by Striker5 (posted on 27-Mar-2009)
This film warrants one star for a wonderful, surreal, faintly disturbing title sequence. Much of the film's notoriety comes from typecast "cutie" Meg Ryan's nude/sex scenes. The plot revolves around the sexual awakening, of sorts, of mousy Fran (Ryan), an English teacher. She leads an introverted existence, broken only by her relationship with her sister and one of her students. Her life is thrown off track when she accidentally witnesses two people having sex and the woman later turns up, sans head. Romantic/sexual tension is generated as Fran oscillates between detective Mark Ruffalo and ex-boyfriend Kevin Bacon. As murders continue, the suspense is generated by ambiguity of the men in Fran's life and their possible connection to the murders. I am a big fan of Jane Campion's work and the surrealism and production values of In the Cut are first rate. The performances are as good as they can be, given the bizarre world the movie inhabits. The dialogue reads like something written by a wrathful high school feminist. The male figures in the film are caricatures of men in some warped feminazi dystopia. It is so unrealistic that it hurts the film's drive and credibility. My favorite scene is where Ruffalo and his partner banter in an absurdly crude and callous hyper-macho fasion in front of Fran. Fran: "Are all police officers homophobes?" Cop: "What are you, some kind of feminist?" Campion falls into a rather common trap that she usually avoids: the two-dimensional protrayal of the "other" (in Campion's case, men). The foreboding and haunting title sequence aside, this is an atmospheric movie debilitated by its feminist claptrap dialogue.
---
Do you know something we don't?
Submit a correction or make a comment about this profile

Copyright ©2019 Soylent Communications