The Piano Teacher (14-May-2001)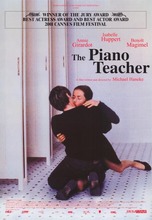 Original Title: La pianiste
Director: Michael Haneke
Writer: Michael Haneke
From novel: Die Klavierspielerin by Elfriede Jelinek
Producer: Veit Heiduschka
Keywords: Drama




A sexually-frustrated middle-aged piano teacher embarks on a disturbing romance with a young man many years her junior.
ABSTRACT
Erika Kohut is a distraught piano teacher struggling with her career and overbearing mother, deriving sexual pleasure from adult toys and voyeuristic activities. Erika crosses paths with Walter, an attractive and confident student, at one of her recitals; enchanted by the prospect of dominating an inexperienced younger man, she invites him into her world of sordid fantasies, drawing him into a relationship as illicit as it is masochistic.
CAST
Isabelle Huppert
... Erika Kohut
Annie Girardot
... The Mother
Benoît Magimel
... Walter Klemmer
Susanne Lothar
... Mrs. Schober
Anna Sigalevitch
... Anna Schober
Udo Samel
... Dr. George Blonskij
Cornelia Köndgen
... Mme. Blonskij
Thomas Weinhappel
... Baritone
Philipp Heiss
... Naprawnik
Rudolf Melichar
... Director
Gabriele Schuchter
... Margot
Georg Friedrich
... Man at Drive-In
William Mang
... 2nd Teacher
Michael Schottenberg
... 1st Teacher
Dieter Berner
... Singing Teacher
Volker Waldegg
... 3rd Teacher
Martina Resetarits
... 4th Teacher
Annemarie Schleinzer
... 5th Teacher
Karoline Zeisler
... 6th Teacher
Liliane Neiska
... Secretary
Luz Leskowitz
... Violinist
Viktor Teuflmayr
... Pianist
Vivian Bartsch
... Woman at Drive-In
Florian Koban
... Pupil
Thomas Auner
... Haydn Pianist
Andreas Donat
... Chopin Pianist
Klara Harrer-Barabyi
... Play-back Erika
Christopher Hinterhuber
... Play-back Walter
and
Gerti Drassl
...
Klaus Händl
...
Erika Kollmann
...
Nina Kripas
...
Esther Pils
...
Petra Reichel
...
Arbesi Sufi
...
Marcus Zeuner
...
REVIEWS
Do you know something we don't?
Submit a correction or make a comment about this profile

Copyright ©2019 Soylent Communications