No Man's Land (12-May-2001)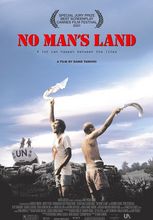 Director: Danis Tanovic
Writer: Danis Tanovic
Keywords: Drama




Soldiers from opposing sides of the Bosnian War are trapped in no man's land during the conflict's darkest days.
ABSTRACT
Bosnian soldier Ciki and Serbian fighter Nino become stranded together in the "no man's land" between their respective forces' lines during the Bosnian War after a series of skirmishes. A third soldier is a living booby trap, stuck on the trench floor with an active bomb waiting to explode beneath him. Ciki and Nino trade barbs and jabs as their awkward situation escalates, unable to move for fear of being killed instantly while a United Nations sergeant and reporter attempt to intervene.
| Name | Occupation | Birth | Death | Known for |
| --- | --- | --- | --- | --- |
| Simon Callow | Actor | 13-Jun-1949 | | British theatre actor |
| Katrin Cartlidge | Actor | 15-May-1961 | 7-Sep-2002 | Claire Dolan |
REVIEWS
Review by Mizi Causevic (posted on 13-Feb-2005)
It's only natural that I had to review this movie... I survived the war in Bosnia, thus I feel as if this movie is also a part of me and what I went through.
A Bosnian soldier, along with his comrades, gets lost in the fog near the enemy (Serbian) lines. As the night ends, the Bosnian soldiers are awaken by the Serbian soldiers who are out to kill them. As the Serbian soldiers kill majority of Ciki's crew, he seeks shelter in an abandoned trench. But what's this? Serbian soldiers don't easily give up as they send two more soldiers (a veteran and a newbie) to find Ciki and kill him. Little do they know Ciki has a gun with which he kills the old veteran and captures the young Serbian Soldier. Now for the completely irony, Ciki, who is also wounded, gets captured by the young Serbian solider who was his prize moments ago...and so the plot moves on with more twists and turns.
It is important to keep in mind that this movie was the first film from Bosnia that was up for any kind of an award. I was personally not surprised when it won an Oscar. It was only obvious, it won numerous awards in Europe, and it was a given that it was going to bump French's Amelie outta the cell. Even though Amelie was expected to win, No Man's Land swiped an Oscar for the best Foreign Flick. A film that is hatefully loved if you will.
What I liked the best about this movie is the fact that it showed both sides, a Bosnian and a Serbian. And also, the UN side which is LOVED to be hated. Is it just me or does pretty much every new war movie (Black Hawn Down) show what kind of pricks the UN really are? Think of UN as that evil snake from the story of Adam & Eve, they basically come in, stir up some more trouble (that is not needed of course), give both sides some weapons and basically watch them fight it out. This is roughly what the UN's role in this movie is, they're there to help, but they're not really helping. Instead, we see the UN official do what they did in Bosnia for three years, sit behind their big desks, flirt with the secretaries, and give out press conferences that not only confuse the people in the war, but people in other countries as well. As you can see, the UN plays a rather big role in this movie, and what a role it is. By the end of the movie you will absolutely despise the UN, and there is a good reason why.
This movie is much more to a Balkan mind than it is to someone who knows nothing of this war. It showed everything that someone from a war could see, it captured the lovingly hateful chemistry between the two enemies, and how both sides blame each other for starting the war-- which brings me to the only flaw of the movie. The Director/Writer did not really explain how the war began. I realize this movie seems flawless for those who know everything about the war, but those who have just been tuning in, will be a bit lost. Nonetheless, everyone will be able to enjoy the anecdotes that are thrown in every now and then at the beginning of the movie, however, everyone will be baffled and saddened by the ending of this dark comedic drama. You will be speechless.
---
Do you know something we don't?
Submit a correction or make a comment about this profile

Copyright ©2019 Soylent Communications