Anne of the Thousand Days (18-Dec-1969)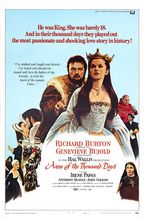 Director: Charles Jarrott
Writers: Bridget Boland; John Hale; Richard Sokolove
From a play: Anne of the Thousand Days by Maxwell Anderson
Music Composed by: Georges Delerue
Producer: Hal B. Wallis
Keywords: Drama, British Royalty, Biography




King Henry VIII, having failed to produce any surviving male heir by Catherine of Aragon, pursues and marries comely Anne Boleyn. However, they are able only to produce another female heir, who eventually became Elizabeth I; he accuses her of adultery and eventually has her beheaded. One of Richard Burton's best performances. Received an Oscar for Best Costume Design; and nominations for 9 other Oscars including Best Actor, Best Actress, Best Supporting Actress, Best Screenplay and Best Picture.
CAST
Richard Burton
... King Henry VIII
Geneviève Bujold
... Anne Boleyn
Co-Starring
Irene Papas
... Queen Katherine
And
Anthony Quayle
... Wolsey
John Colicos
... Cromwell
Also Starring
Michael Hordern
... Thomas Boleyn
Katharine Blake
... Elizabeth Boleyn
Peter Jeffrey
... Norfolk
Joseph O'Conor
... Fisher
William Squire
... Thomas More
With
Valerie Gearon
... Mary Boleyn
Vernon Dobtcheff
... Mendoza
Gary Bond
... Smeaton
Terence Wilton
... Lord Percy
Denis Quilley
... Weston
Esmond Knight
... Kingston
T. P. McKenna
... Norris
And
Michael Johnson
... George Boleyn
Marne Maitland
... Campeggio
Nora Swinburne
... Lady Kingston
June Ellis
... Bess
Cyril Luckham
... Prior Houghton
Brook Williams
... Brereton
Lesley Paterson
... Jane Seymour
Amanda Jane Smythe
... Baby Elizabeth
Nicola Pagett
... Princess Mary
REVIEWS
Review by Laura Brown (posted on 5-Aug-2007)
First-rate script, casting, costumes, score and editing. This film has stood the test of time, too -- although it was made in 1969, you won't find much to snicker at. Richard Burton (by his own admission) plays Henry VIII as 'somewhat of a madman' -- the role is written that way. Next to the petite French-Canadian actress, Genevieve Bujold (as Anne Boleyn) Burton looks more like the ruthless, larger-than-life Henry we know from history. The real treat is the supporting cast. Michael Hordern as Anne's ambitious father, John Colicos as Cromwell, Henry's wiley lawyer, Anthony Quayle as Cardinal Wolsey and Irene Pappas as the spurned Catherine of Aragon are all superb. This story (out of necessity) clips through the tumultuous nine-year courtship and marriage of Anne and Henry, and conveniently omits Anne's own cruelties. She remains here the tragic heroine of history. Bujold's best scene (in the Tower) is feisty tongue-thrashing delivered to a supposedly concilliatory Henry. In fact, this last meeting between Anne and Henry never took place, but you can almost believe it would have played exactly this way. You don't see depictions of historical characters this compelling nowadays, with the possible exception of Cate Blanchett's in Elizabeth. This film is being released soon in a DVD set with 'Mary, Queen of Scots' (Glenda Jackson and Vanessa Redgrave, 1971). Buy them. Watch them. Relish them. Repeat.
---
Review by Erick Hanson (posted on 25-Aug-2007)
One of the greatest films of all time. Superb script and direction, brilliant performance by Bujold, Burton at his best. History, or a liberal re-creation of it, affords gripping drama. So why isn't this masterpiece available on CD?
---
Review by Charles Alonjie (posted on 25-Apr-2009)
I actually first saw this movie on TV in 1996 and I was quite taken back by the great acting of Richard Burton and Genevieve Bujold. The movie looked so good and was so well written and directed I later had to research back to see if Burton was actually dead in real life. The sexual tension between Burton and Genevieve was so hot that it would make Elizabeth Taylor look like milk toast in real life. I never forgot "Anne of the Thousand Days" and only entered into NNDB.com today (2009) to see if there really was such a movie or was it just made for TV years ago. Fortunately the movie does exists and I can hardly wait to get my hands on a copy for my collection.
---
Do you know something we don't?
Submit a correction or make a comment about this profile

Copyright ©2019 Soylent Communications