Call Me Madam (25-Mar-1953)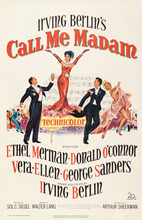 Director: Walter Lang
Writer: Arthur Sheekman
From a play by: Russel Crouse; Howard Lindsay
Keywords: Musical Comedy




Washington socialite Sally Adams becomes U.S. Ambassador to the Duchy of Lichtenberg. Modeled after Pearl Mesta, who was Ambassador to Luxembourg during the Truman Administration. Delightful entertainment. Regretfully, the film industry offered Ethel Merman few chances to display her gifted talents. Won Oscar for Best Score of a Musical; received an additional nomination for Best Costume Design.
| Name | Occupation | Birth | Death | Known for |
| --- | --- | --- | --- | --- |
| Helmut Dantine | Actor | 7-Oct-1917 | 2-May-1982 | Edge of Darkness |
| Billy De Wolfe | Actor | 18-Feb-1907 | 5-Mar-1974 | The Doris Day Show |
| Charles Dingle | Actor | 28-Dec-1887 | 19-Jan-1956 | The Little Foxes |
| Percy Helton | Actor | 31-Jan-1894 | 11-Sep-1971 | Character actor |
| Ethel Merman | Singer | 16-Jan-1908 | 15-Feb-1984 | There's No Business Like Show Business |
| Donald O'Connor | Actor | 28-Aug-1925 | 27-Sep-2003 | Singin' in the Rain |
| George Sanders | Actor | 3-Jul-1906 | 25-Apr-1972 | The Saint Strikes Back |
| Lilia Skala | Actor | 28-Nov-1896 | 18-Dec-1994 | Lilies of the Field |
| Walter Slezak | Actor | 3-May-1902 | 21-Apr-1983 | Hitchcock's Lifeboat |
| Vera-Ellen | Dancer | 16-Feb-1921 | 30-Aug-1981 | On the Town |
REVIEWS
Review by Michael Sullivan (posted on 18-Apr-2007)
Noted for her brash vocal quality, Ethel Merman manages to wax romantic as she sings "The best thing for you (would be me.) As Sally Adams, Merman is totally captivating in the role of a a rich widowed woman holding the post of U.S. Ambassador to the fictional country of Lichtenberg. She sets sail for the country after signing Donald O'Connor as her press attache. Unschooled in the ways of diplomacy, Merman, with the help of sneaky Billy DeWolf, the charge-d-fair, barely manages to get through the formalities of European introductions and in one scene, falls on her rump while attempting a curtsy before the beleagured head of the country. The underlying plot involves Lichtenberg's attempt to get an infamous U.S. loan, through Merman's influence, to tide the country over. Vera Ellen, a princess, dances with and falls for O'Connor, which creates problems for the monarchy because Vera-Ellen was to marry a handsome but obnoxious prince to seal a deal to bring money into Lichtenberg's dwindling treasury. Merman runs afoul of George Sanders, her love interest, when he learns she has been pushing for the U.S. loan. Sanders, head of foreign affairs of the country, wanted Lichtenberg to get out of its fiscal problems via reforms -- not loans. It all works out, as Vera-Ellen gives up the throne to marry O'Connor, and Sanders hooks up with Merman in the finale. There are some exceptional dance numbers with O'Connor and Vera-Ellen, some great "shtick" involving Merman and a great Irving Berlin tune, "I hear singing" (but there's no one there." Vera Ellen never again would look as alluring as she did in this film. Merman was feisty but loveable, and O'Connor did some dazzling dances including a solo, "What Chance Have I (an ordinary guy)with love." The film is especially memorable for Merman's supposed phone calls to "Harry," filling in President Truman on the happenings as ambassador. The calls are staged, of course, and we never get to see Truman. No matter. It was and is a great flick.
---
Do you know something we don't?
Submit a correction or make a comment about this profile

Copyright ©2019 Soylent Communications