Pay It Forward (12-Oct-2000)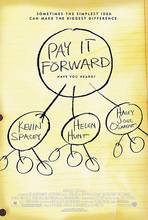 Director: Mimi Leder
Writer: Leslie Dixon
From novel: Pay It Forward by Catherine Ryan Hyde
Music by: Thomas Newman
Producers: Steven Reuther; Peter Abrams; Robert L. Levy




A young boy from a troubled home acts on a teacher's assignment to find a way to improve the world around him.
ABSTRACT
Trevor McKinney is a young man with an embattled background, living in fear of his abusive absent father and alcoholic mother. One day at school, Trevor receives a life-changing assignment from social studies teacher Eugene Simonet: Devise, and set into motion, an idea to change the world for the better. With the blessing of his teacher, Trevor conjures up a plan to "pay it forward", performing good deeds in response to deeds done for him with a view to setting off a domino effect of strangers performing random acts of kindness for one another.
CAST
Kevin Spacey
... Eugene Simonet
Helen Hunt
... Arlene McKinney
Haley Joel Osment
... Trevor McKinney
Jay Mohr
... Chris Chandler
James Caviezel
... Jerry
Jon Bon Jovi
... Ricky
David Ramsey
... Sidney
Gary Werntz
... Thorsen
Kathleen Wilhoite
... Bonnie
and
Angie Dickinson
... Grace
Colleen Flynn
... Woman on Bridge
Marc Donato
... Adam
Liza Snyder
... Michelle
Jeanetta Arnette
... Nurse
Hannah Werntz
... Thorsen's Daughter
Tina Lifford
... Principal
Loren D. Baum
... Rough Kid #1
Nico Matinata
... Rough Kid #2
Zack Duhame
... Rough Kid #3
Shawn Pyfrom
... Shawn
Alexandra Kotcheff
... Alexandra
Bradley White
... Jordan
Christi Colombo
... Christi
Phillip Stewart
... Phillip
Justin Parsons
... Justin
Myeshia Dejore Walker
... Myeshia
Brenae Suzanne Davey
... Brenae
Molly Kate Bernard
... Molly
Andrew Patrick Flood
... Andy
Tameila N. Turner
... Tameila
Julian Correa
... Julian
Carrie Ann Sullivan
... School Girl
Patricia Deanda
... Change Girl
Ryan Berti
... Hallway Kid #1
Gabriela Rivas
... Hallway Kid #2
Carrick O'Quinn
... Man in Window
Stephanie Feury
... Woman in Window
Bernard White
... Cop
Tom Bailey
... Liquid Man #1
Tim deZarn
... Liquid Man #2
Jonathan Nichols
... Liquid Man #3
Ron Keck
... Lowlife #1
John Powers
... Lowlife #2
Bob McCracken
... Creepy Middle-Aged Man
Frank Whiteman
... Doctor
Eugene Osment
... Cop Who Gives Directions
Kendall Tenney
... Male Newscaster
Sue Tripathy
... Female Newscaster
Rusty Meyers
... News Stand Guy
Leslie Dilley
... The Governor
REVIEWS
Review by banion48 (posted on 4-Apr-2005)
Although I am a big Kevin Spacey fan I was not such a fan of this movie. Perhaps it was Haley Joel Osment's stiltled performance that ruined it for me, or the fact that in the book Eugene Simonet (Spacey) is a gruff, black Vietnam Veteran, but that's besides the fact. The *adults* in the film give a wonderful performance. Hunt portrays a struggling, alcoholic mother; Spacey slips inside a character that was horribly scarred as a teen, creating a jaded, lonely adult; and Osment bounces from pane to pane trying to appear as adorable as he did in the Sixth Sense but just coming off as a sucrose, wanna-be adult. Jon Bon Jovi has a cameo in this flick (!), and it also features an idealistic view of the world in which one good deed will automatically spawn others.
---
Do you know something we don't?
Submit a correction or make a comment about this profile

Copyright ©2019 Soylent Communications