The Blob (12-Sep-1958)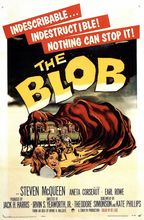 Director: Irvin S. Yeaworth, Jr.
Writers: Theodore Simonson; Kate Phillips; Irvine H. Millgate
Music Composed and Conducted by: Ralph Carmichael
Producer: Jack H. Harris
Keywords: Sci-Fi/Horror




A meteorite falls in near a small town; a blob from its center attaches itself to a farmer's hand. Two teens, Steve McQueen and Aneta Corsaut deliver the farmer to the local doctor, but a short time later they see the doctor engulfed by the blob. Predictably, nobody will listen to the kids' story. McQueen's debut as lead in this well-paced and influential cult classic. Followed by a sequel, Beware! The Blob (1972), and a big-budget remake, The Blob (1988).
| Name | Occupation | Birth | Death | Known for |
| --- | --- | --- | --- | --- |
| Aneta Corsaut | Actor | 3-Nov-1933 | 6-Nov-1995 | The Andy Griffith Show |
| Steve McQueen | Actor | 24-Mar-1930 | 7-Nov-1980 | The Great Escape |
CAST
Starring
Steve McQueen
... Steve Andrews
Co-Starring
Aneta Corsaut
... Jane Martin
Earl Rowe
... Lt. Dave
Featuring
Olin Howlin
... Old Man
Steven Chase
... Dr. Hallen
John Benson
... Sgt. Bert
George Karas
... Officer Ritchie
Lee Payton
... Nurse
Elbert Smith
... Henry Martin
Hugh Graham
... Mr. Andrews
Vince Barbi
... Cafe Owner
Audrey Metcalf
... Elizabeth Martin
And
Jasper Deeter
... Supporting Cast
Tom Ogden
... Supporting Cast
Elinor Hammer
... Supporting Cast
Pamela Curran
... Supporting Cast
Ralph Roseman
... Supporting Cast
Charlie Overdorff
... Supporting Cast
David Metcalf
... Supporting Cast
Josh Randolph
... Supporting Cast
George Gerbereck
... Supporting Cast
Julie Cousins
... Supporting Cast
Kieth Almoney
... Supporting Cast
Eugene Sabel
... Supporting Cast
And Introducing the Teenagers
Robert Fields
... Tony Gressette
James Bonnet
... Mooch Miller
Anthony Franke
... Al
Molly Ann Bourne
... Teenager
Diane Tabben
... Teenager
REVIEWS
Do you know something we don't?
Submit a correction or make a comment about this profile

Copyright ©2019 Soylent Communications