Reap the Wild Wind (19-Mar-1942)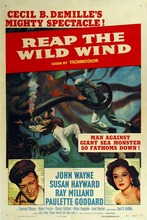 Director: Cecil B. DeMille
Writers: Alan LeMay; Charles Bennett; Jesse Lasky, Jr.
From story by: Thelma Strabel (story, in the Saturday Evening Post)
Music Score by: Victor Young
Producer: Cecil B. DeMille
Keywords: Action/Adventure, Spanking




An 1840s shipowner is plagued by unscrupulous salvagers who bribe crews to cause deliberate shipwrecks in the Florida Keys; after Capt. Jack Stuart's ship is wrecked by another's doing, honest salvager Loxi Claiborne nurses him back to health and argues Stuart's case to the owner. Believing that effort doomed, he pursues an alternate, ill-advised course of events. One of Cecil B. DeMille's best films. For the scenes of battle with a giant squid, won an Oscar for Best Special Effects; received additional nominations for Best Cinematography and Best Interior Decoration.
CAST
REVIEWS
Do you know something we don't?
Submit a correction or make a comment about this profile

Copyright ©2019 Soylent Communications