Meet the Fockers (16-Dec-2004)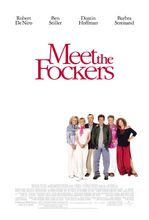 Director: Jay Roach
Writers: Jim Herzfeld; Marc Hyman; John Hamburg
Music by: Randy Newman
Producers: Jane Rosenthal; Robert De Niro; Jay Roach
Keywords: Comedy




Sequel to 2000's Meet the Parents follows the uppercrust Byrnes family as they meet the free-spirited Focker bunch for the first time.
ABSTRACT
Sequel to (broken link, @movie:meet-the-parents-2000) (2000). Jack Byrnes, sadistic ex-CIA agent and patriarch of his clan, heads out on the road to Miami with family in tow to meet the Focker family after giving Greg Focker his blessing to marry daughter Pam. Predictable shenanigans ensue when Jack meets Greg's easy-going parents for the first time, setting the stage for yet another ordeal in which the Fockers are placed at the mercy of his paranoia and personality quirks.
CAST
Robert De Niro
... Jack Byrnes
Ben Stiller
... Greg Focker
Dustin Hoffman
... Bernie Focker
and
Barbra Streisand
... Roz Focker
Blythe Danner
... Dina Byrnes
Teri Polo
... Pam Byrnes
Tim Blake Nelson
... Officer Le Fiore
Alanna Ubach
... Isabel
Ray Santiago
... Jorge Villalobos
Kali Rocha
... Flight Attendant
Shelley Berman
... Judge Ira
Owen Wilson
... Kevin Rawley
Spencer Pickren
... Little Jack
Bradley Pickren
... Little Jack
Vahe Bejan
... Gunther
Kathleen Gati
... Venka
Dorie Barton
... Airline Clerk
Jack Plotnick
... Rent-a-Car Agent
Wayne Thomas Yorke
... Airport Security Guard
B. J. Hansen
... B.J.
J. P. Manoux
... Local Cop
Myra Turley
... Admitting Nurse
Angelo Tiffe
... Businessman
Kyle T. McNamee
... Undercover Waiter
Cedric Yarbrough
... Prison Guard
Max Hoffman
... Woody Focker
Benjamin Trueblood
... Newborn Baby
Roberto Garcia
... Waiter
Bruno Coon
... Band Member
Rock Deadrick
... Wedding Band
David Sutton
... Wedding Band
Linda O'Neil
... Girl on Bus
Bernadette Perez
... Girl on Bus
Tiffany Turner
... Girl on Bus
REVIEWS
Review by anonymous (posted on 6-May-2005)
Robert De Niro comedies keep getting better and better! De Niro has without a doubt proved himself as the greatest actor on the planet. With films like The Godfather and Raging Bull to his name De Niro is a legend. Now Meet the Fockers can go with his best work. I must say I was not a fan of the original film Meet the Parents but this was great. SPOILERS Basically the plot is Ben Stiller and his wife [forgot her name!] go to visit her parents on there island. Her parents however are wacky and like nature and as you can guess they don't get along with De Niro's charachter. I found this film to be very funny and it was the first film I have been to where the seats were packed full. Ben Stiller and Dustin Hoffman also deseve honourable credits for the movie and Barbera Streisand proves life begins at 60!
---
Do you know something we don't?
Submit a correction or make a comment about this profile

Copyright ©2019 Soylent Communications