Support Your Local Sheriff (26-Mar-1969)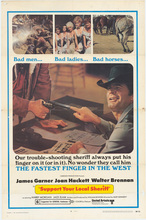 Director: Burt Kennedy
Writer: William Bowers
Music by: Jeff Alexander
Producer: William Bowers
Keywords: Western/Comedy




James Garner is drifter Jason McCullough, slowly trying to make his way to Australia, who ambles into a western mining town deficient of sheriffs in recent months; he accepts the job of top lawman and sets about restoring law and order. Though a skilled marksman, McCullough prefers almost any solution that does not involve violence. But he must contend with the Danby Family after he arrests one of their sons.
| Name | Occupation | Birth | Death | Known for |
| --- | --- | --- | --- | --- |
| Willis Bouchey | Actor | 24-May-1907 | 27-Sep-1977 | The Man Who Shot Liberty Valance |
| Walter Brennan | Actor | 25-Jul-1894 | 21-Sep-1974 | Three Oscars for Best Supporting Actor |
| Bruce Dern | Actor | 4-Jun-1936 | | Silent Running |
| Jack Elam | Actor | 13-Nov-1918 | 20-Oct-2003 | The Sundowners |
| Gene Evans | Actor | 11-Jul-1922 | 1-Apr-1998 | Behemoth, the Sea Monster |
| Kathleen Freeman | Actor | 17-Feb-1919 | 23-Aug-2001 | Gen. Burkhalter's sister |
| James Garner | Actor | 7-Apr-1928 | 19-Jul-2014 | Jim Rockford on Rockford Files |
| Joan Hackett | Actor | 1-Mar-1934 | 8-Oct-1983 | Only When I Laugh |
| Henry Jones | Actor | 1-Aug-1912 | 17-May-1999 | The Bad Seed |
| Harry Morgan | Actor | 10-Apr-1915 | 7-Dec-2011 | Col. Sherman T. Potter on M*A*S*H |
CAST
REVIEWS
Review by anonymous (posted on 26-Oct-2006)
This film is an inventive and well-executed spoof on Western genre 'hero' films such as 'High Noon'. A drifter (James Garner) who keeps claiming that he's just passing through on his way to Australia, rescues a frontier town from lawlessness, catches the eye of the richest heiress in the territory and takes down the family of outlaws ruling the local economy with a combination of non-chalance honed to a fine art and some hysterically unorthodox tactics. James Garner is at his low-key, 'man in cool control' best. The supporting cast of Jack Elam as his alcoholic deputy, Joan Hackett as Garner's rich-but-ditzy love interest, Harry Morgan as her dad and Bruce Dern as a really dopey outlaw son of the patriarch of bandits (Walter Brennan) are all great foils for Garner. This is a very funny movie and for my money is far superior than the movie most people would point to a the classic spoof on Western heroism 'Blazing Saddles'. It's funnier, much less dirty and more innovative throughout and, unlike the Mel Brooks film, actually has a good, coherent ending--which I'm not going to tell you for y'all own good. So there!
---
Do you know something we don't?
Submit a correction or make a comment about this profile

Copyright ©2019 Soylent Communications