The Godfather: Part II (12-Dec-1974)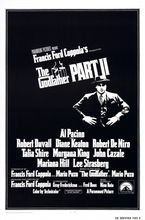 Director: Francis Ford Coppola
Writers: Francis Ford Coppola; Mario Puzo
From novel: The Godfather by Mario Puzo
Keywords: Crime, Organized Crime, Las Vegas, Cuba, New York




Two stories told simultaneously via flashbacks; the rise of Vito Corleone's criminal empire in the 1920s onward, and Michael Corleone's extension of the empire as far as Las Vegas and pre-Revolutionary Cuba. Sequel to The Godfather (1972), equally worthy as the original. Won Oscars for Best Picture, Best Director, Best Supporting Actor, Best Screenplay, Best Dramatic Score, and Best Set Direction; received nominations for Best Actor, Best Supporting Actor (two), Best Supporting Actress, and Best Costume Design.
[watch trailer]
REVIEWS
Review by leper (posted on 29-Mar-2005)
As a huge fan of the Godfather series, (yes I even like part three) I have to say that part two is my personal favorite.
Part one shows us the title of Godfather being passed from Vito Corleone (Marlon Brando) to his son Michael (Al Pacino).
The second film begins with Vito as a young boy being smuggled out of Sicily after his entire family was murdered by the local mafia. Then the story re-joins Michael in his now powerfull position as mafia Don, and head of the Corleone family.
The film is divided into sections of the present-day story of michael trying to gear the family to bigger deals in cuba with his fathers old partner Hyman Roth (Lee Strasberg) while also dealing with the uprising of the Cuban rebels; and the betrayal of his brother Fredo (John Cazale). One of the great scenes is when he gives Fredo the "kiss of death" at the New Year's party.
The other section of the film is comprised of a young Vito (as played by Robert De Niro) making his way in old town New York. It shows his way up the organized crime ladder, making friends and connections that would later (and earlier) carry the story.
Francis Ford Coppola delivers masterful genius in this epic reprisal of a gangster classic. He uses soft, brown textures and dull sepia tones to perfection. The lighting has yet to be duplicated in any film. The way some of these shots are framed have been studied in film schools the world over. In short, if your looking for the epitamy of cinematic enjoyment mixed with that good ole' classic gangster shit, this is the movie for you. I would recomend it to anyone.
---
Do you know something we don't?
Submit a correction or make a comment about this profile

Copyright ©2019 Soylent Communications