Since You Went Away (20-Jul-1944)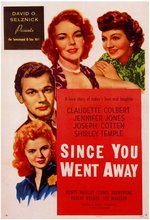 Director: John Cromwell
Writer: David O. Selznick
From novel: Together by Margaret Buell Wilder
Music by: Max Steiner
Producer: David O. Selznick




A mother and her two daughters cope as their breadwinner ships off to fight in WWII; they take on a lodger, Col. Smollett (Ret.), whose grandson has failed out of West Point and takes a fancy to one of the daughters. Sentimental and patriotic, released in 1944 it is certainly a product of its time; perhaps too long. Won an Oscar for Best Dramatic Score; received 8 additional nominations including Best Picture, Best Actress, Best Supporting Actor and Actress, and Best Cinematography.
| Name | Occupation | Birth | Death | Known for |
| --- | --- | --- | --- | --- |
| Lionel Barrymore | Actor | 28-Apr-1878 | 15-Nov-1954 | Young Dr. Kildare |
| Albert Bassermann | Actor | 7-Sep-1867 | 15-May-1952 | German actor |
| Claudette Colbert | Actor | 13-Sep-1903 | 30-Jul-1996 | It Happened One Night |
| Lloyd Corrigan | Actor | 16-Oct-1900 | 5-Nov-1969 | Arthur Manleder in Boston Blackie films |
| Joseph Cotten | Actor | 15-May-1905 | 6-Feb-1994 | Jedidiah Leland in Citizen Kane |
| Jennifer Jones | Actor | 2-Mar-1919 | 17-Dec-2009 | The Song of Bernadette |
| Guy Madison | Actor | 19-Jan-1922 | 6-Feb-1996 | Adventures of Wild Bill Hickok |
| Hattie McDaniel | Actor | 10-Jun-1893 | 26-Oct-1952 | Mammy in Gone with the Wind |
| Agnes Moorehead | Actor | 6-Dec-1900 | 30-Apr-1974 | Endora on Bewitched |
| Alla Nazimova | Actor | 22-May-1879 | 13-Jul-1945 | Blood and Sand |
| Gordon Oliver | Actor | 27-Apr-1910 | 26-Jan-1995 | The Spiral Staircase |
| Craig Stevens | Actor | 8-Jul-1918 | 10-May-2000 | Peter Gunn |
| Shirley Temple | Actor | 23-Apr-1928 | 10-Feb-2014 | Rebecca of Sunnybrook Farm |
| Robert Walker | Actor | 13-Oct-1918 | 28-Aug-1951 | Strangers on a Train |
| Monty Woolley | Actor | 17-Aug-1888 | 6-May-1963 | The Man Who Came to Dinner |
| Keenan Wynn | Actor | 27-Jul-1916 | 14-Oct-1986 | Col. Bat Guano in Dr. Strangelove |
CAST
REVIEWS
Review by anonymous (posted on 28-Jan-2007)
I love the film, 'The Best Years of Our Lives', and, as a result, eagerly anticipated the wartime film, 'Since You Went Away'. I was not disappointed. This heart-warming movie with an amazing cast evokes the extreme emotion and pride that are common themes in similar films. However, in addition, it has a "warm and fuzzy" feeling throughout. The chemistry among its cast members is obvious. There is the underlying message of women "coming of age", doing their part in the war effort, as well as keeping the family strong. The importance of this message comes through. However, it is more subtle and not overbearing. Claudette Colbert is perfectly cast and completely believable as the family matriarch. The strikingly beautiful Jennifer Jones and precocious, but more mature, Shirley Temple are wonderful as the daughters; showing a wide range of emotions. Joseph Cotten and Agnes Moorehead are family aquaintences who truly enhance the film; providing a subtle 'sexiness'to the film. The border, Monty Woolley, provided the missing fatherly link. Finally, Hattie McDaniel's talent shines through as the loving and devoted housekeeper. I am often disppointed with the endings to films from this era, but I enjoyed the "happily everafter...", albeit predictable, ending as it seemed appropriate in this film with such a wide array of emotions.
---
Review by anonymous (posted on 19-Sep-2006)
Since You Went Away was David O Selznick's next try at an epic after Gone With the Wind. Shot in black and white, it details one year in the life of a family after Dad goes off to WWII. Mom (Claudette Colbert as Anne Hilton) learns to keep house after having to let the housekeeper (the always wonderful Hattie McDaniel as Fidelia) go due to budget constraints. Jennifer Jones plays Jane(David O Selznick's girlfriend at the time) and Shirley Temple plays Bridget(in her teen years) are the daughters who give mom reason to keep going and grow up during this tumultous year. Monty Wooley is fantastic as the curmudgeonly boarder, Colonel William G. Smollet, and Robert Walker as Bill Smollet, his black sheep grandson and namesake touches your heart with his wistful portrayal of the doomed Army Corporal. (He and Jennifer Jones were divorced in real life by the end of filming.) Joseph Cotten is Lieutenant Tony Willettthe dashing playboy best friend who has the hots for Anne Hilton and provides some great comedy with Fidelia, who thinks he's just not all that. We watch the Hiltons learn to budget, grow a Victory Garden, fall in love, and learn to make do with less, as so much of the WWII population did. I absolutely love this movie. I even searched 'til I found a copy of it and have added it to my DVD Library. I'm giving it 4 stars, because I can't find a thing wrong with it!
---
Review by anonymous (posted on 28-Dec-2006)
Excellent, excellent movie. "Since You..." offers a snapshot of the "home front" of WW II. Mostly, however, it shows the heartfelt emotions of those "left behind" in a gentler America - the spouse (Claudette Colbert) and daughters (Jennifer Jones and Shirley Temple) offer a realism and range of family emotions for an absent loved one that will not be seen again until 1945's "Best Years of Our Lives". Jennifer Jones's and Robert Walker's scenes and chemistry were moving and [professinally] fantastic - this considering their marriage was breaking up during filming. The unpretentious "adult" Shirley Temple - charming as ever, (not acting or re-living "The Child" Shirley); rather a beautiful young woman, consummate professional, who held her own while working with the great Colbert (and Joseph Cotton) and the beautiful (and powerful) Mrs. David O. Selznick (Jones). "Since You went Away" harkens to a gentler day in America, yes, though an America split ethnically/socially/economically, yet our mores, our values and principals were purer. The leading man, Cotton, does not take advantage of his friend's absence; the wife (Colbert) remains faithful. The great Hattie McDaniel (in her own right) was a steady influence for the family, and although the family's [unpaid] domestic, her "Fidelia" character was loved as "family" and returned the same to the Hiltons. Her well-written scenes and acting complimented the roles of the other actors. Here, McDaniel was no "credit to her race"; rather, she was a credit to the film - as were the entire ensemble. Watch and enjoy "Since You went Away", then "Best Years of Our Lives", then Moss Hart's "Gentlemen's Agreement". You'll see bits of America's during The War adjustments, it's conclusion adjustments, and finally how much more adjusting America still had to undergo.... Great, great cinema. JB
---
Do you know something we don't?
Submit a correction or make a comment about this profile

Copyright ©2019 Soylent Communications