The Affairs of Dobie Gillis (14-Aug-1953)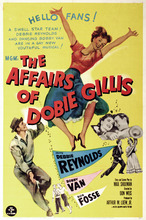 Director: Don Weis
Writer: Max Shulman
Music: Jeff Alexander
Producer: Arthur M. Loew, Jr.
Keywords: Musical, Romantic Comedy




Dobie Gillis attends Grainbelt University with the intention of pursuing women and fun; on the first day of school he falls for Pansy Hammer, whose interests are more academic. Light quasi-musical. The Gillis character (but none of the others) was later turned into a TV series, The Many Loves of Dobie Gillis, running 1959-63.
| Name | Occupation | Birth | Death | Known for |
| --- | --- | --- | --- | --- |
| Hans Conried | Actor | 15-Apr-1917 | 5-Jan-1982 | Character actor, 1930s to 1970s |
| Bob Fosse | Choreographer | 23-Jun-1927 | 23-Sep-1987 | Choreographer |
| Kathleen Freeman | Actor | 17-Feb-1919 | 23-Aug-2001 | Gen. Burkhalter's sister |
| Charles Lane | Actor | 26-Jan-1905 | 9-Jul-2007 | Grumpy character actor |
| Debbie Reynolds | Actor | 1-Apr-1932 | 28-Dec-2016 | Dancer, actress |
| Lurene Tuttle | Actor | 20-Aug-1907 | 28-May-1986 | First Lady of Radio |
| Bobby Van | Actor | 6-Dec-1928 | 31-Jul-1980 | Broadway actor |
REVIEWS
Do you know something we don't?
Submit a correction or make a comment about this profile

Copyright ©2019 Soylent Communications