Epic Movie (25-Jan-2007)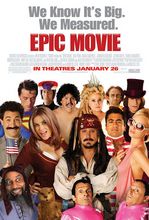 Directors: Jason Friedberg; Aaron Seltzer
Writers: Jason Friedberg; Aaron Seltzer
Keywords: Comedy




Scary Movie-esque farce lampoons a number of overwrought Hollywood film franchises.
ABSTRACT
Intended as a parody of fan-friendly Hollywood blockbusters similar in vein to Scary Movie's send-up of a variety of slasher-flick standbys, Epic Movie is a hastily-assembled satire spinning stories of four grown orphans from separate circumstances who must endure experiences standing as thinly veiled takeoffs on Charlie and the Chocolate Factory, The Chronicles of Narnia, and Pirates of the Caribbean, among others.
REVIEWS
Review by Melanie (posted on 6-Jun-2007)
OMG!! This movie was horrific! I had been excited to see this movie, and when it came out, I wish I could have taken the 1 and a half hour of my life back. This movie had nudity (completely pointless) only so the directors could jerk off to it in slow motion, and horrible actors/actresses. The only reason why I gave this movie the half star was because of Jennifer Coolidge (she was funny as always) and Darrell Hammond (for an impressive Jack Swallows character). They can fight over who gets what percentage of that half star. Lousy movie. Directors/writers should be executed... slowly.
---
Do you know something we don't?
Submit a correction or make a comment about this profile

Copyright ©2019 Soylent Communications