Citizen Kane (1-May-1941)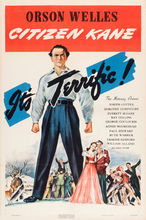 Director: Orson Welles
Writers: Herman J. Mankiewicz; Orson Welles
Music Composed and Conducted by: Bernard Herrmann
Producer: Orson Welles
Keywords: Drama, Great Depression, Roman ŕ Clef




The life of publisher Charles Foster Kane, who in the pursuit of empire and power, sacrificed his youthful idealism. Told in nonlinear flashback, his dying word "rosebud" a mystery to reporters. Perhaps the most innovative movie ever to come out of Hollywood. William Randolph Hearst, the model for Kane, wanted it destroyed. Won Oscar for Best Screenplay; received 8 additional nominations including Best Picture, Best Director, Best Actor, Best Cinematography and Best Dramatic Score. Entered 1989 into the National Film Registry.
CAST
REVIEWS
Review by anonymous (posted on 18-Mar-2006)
Many people say that this is the greatest movies ever made. They would not be wrong. Citizen Kane defiantly is one of the best movies ever made. The film follows a young reporter (William Alland) who is sent out to find the meaning of a great newspaperman's last word "Rosebud". The newspaperman's name is Charles Foster Kane (Orson Welles). The reporter comes in contact with Kane's second wife Susan (Dorothy Comingore), his two business partners Jed (Joseph Cotten), and Mr. Bernstein (Everett Slone). The fil's ending will leave you speechless. With great writing by Welles and Herman J. Mankiewicz, great cinematography by Gregg Toland, great editing by Robert Wise, and great directing from Welles, Citizen Kane is a must see for movie fans.
---
Do you know something we don't?
Submit a correction or make a comment about this profile

Copyright ©2019 Soylent Communications