The Invisible Man (13-Nov-1933)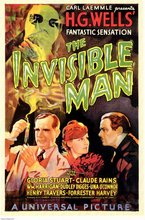 Director: James Whale
Writer: R. C. Sherriff
From novel: The Invisible Man by H. G. Wells
Producer: Carl Laemelle, Jr.
Keywords: Drama, Invisibility, Secret Formula, Experiment Gone Awry, Explosions




A scientist discovers the secret to invisibility; as he struggles to develop an antidote, he descends into megalomaniacal madness. Excellent dialogue particularly from Claude Rains in his first major role; a delightful strain of dark humor runs through the film. Still powerful despite the passage of many decades. Entered 2008 into the National Film Registry.
| Name | Occupation | Birth | Death | Known for |
| --- | --- | --- | --- | --- |
| E. E. Clive | Actor | 28-Aug-1879 | 6-Jun-1940 | Tenney in Bulldog Drummond |
| Una O'Connor | Actor | 23-Oct-1880 | 4-Feb-1959 | Googly-eyed character actress |
| Claude Rains | Actor | 10-Nov-1889 | 30-May-1967 | The Invisible Man |
| Gloria Stuart | Actor | 4-Jul-1910 | 27-Sep-2010 | Rose in Titanic |
| Henry Travers | Actor | 5-Mar-1874 | 18-Oct-1965 | It's a Wonderful Life |
CAST
Claude Rains
... The Invisible Man
with
Gloria Stuart
... Flora Cranley
William Harrigan
... Dr. Kemp
Henry Travers
... Dr. Cranley
Una O'Connor
... Mrs. Hall
Forrester Harvey
... Mr. Hall
Holmes Herbert
... Chief of Police
E. E. Clive
... Jaffers
Dudley Digges
... Chief of Detectives
Harry Stubbs
... Insp. Bird
Donald Stuart
... Insp. Lane
Merle Tottenham
... Milly
REVIEWS
Do you know something we don't?
Submit a correction or make a comment about this profile

Copyright ©2019 Soylent Communications