Hannibal (9-Feb-2001)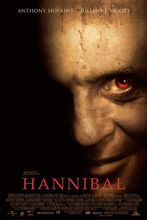 Director: Ridley Scott
Writers: David Mamet; Steven Zaillian
From novel: Hannibal by Thomas Harris
Music by: Hans Zimmer
Producers: Dino De Laurentiis; Martha De Laurentiis; Ridley Scott
Keywords: Crime, Cannibalism, Serial Killer




Sequel to 1991's The Silence of the Lambs follows Clarice Starling's attempts to apprehend Hannibal Lecter before a past victim can eliminate him first.
ABSTRACT
Sequel to The Silence of the Lambs (1991). Ten years on from her encounter with Buffalo Bill, Clarice Starling is blamed for a drug raid in her capacity as an FBI special agent. Drawing the attention of well-heeled child molester Mason Verger due to her connection to cannibalistic psychiatrist and serial killer Hannibal Lecter, she is asked to take part in a conspiracy to kill the infamous individual as an act of revenge for his disfiguring Lecter some years earlier, soon working against long odds to capture Lecter and bring him into custody before Verger's vast resources can get to him first.
CAST
Anthony Hopkins
... Hannibal Lecter
Julianne Moore
... Clarice Starling
Ray Liotta
... Paul Krendler
Frankie Faison
... Barney
Giancarlo Giannini
... Pazzi
Francesca Neri
... Allegra Pazzi
Zeljko Ivanek
... Dr. Cordell Doemling
Hazelle Goodman
... Evelda Drumgo
David Andrews
... FBI Agent Pearsall
Francis Guinan
... FBI Director Noonan
Enrico Lo Verso
... Gnocco
Mark Margolis
... Perfume Expert
Ivano Marescotti
... Carlo
Fabrizio Gifuni
... Matteo
Ennio Coltorti
... Ricci
Gary Oldman
... Mason Verger
James Opher
... DEA Agent Eldridge
Alex Corrado
... Piero
Marco Greco
... Tommaso
Robert Rietti
... Sogliato
Terry Serpico
... Officer Bolton
Boyd Kestner
... Special Agent Burke
Peter Shaw
... Special Agent Brigham
Kent Linville
... FBI Mail Boy
Don McManus
... Asst. Mayor Benny Holcombe
Harold Ginn
... Larkin Wayne
Ted Koch
... BATF Agent Sneed
Wm. Powell Blair II
... FBI Agent
Aaron Craig
... "Il Mostro" Detective
Andrea Piedimonte
... Agent Benetti
Ian Iwataki
... Young Boy in Plane
Ajay Naidu
... Perfume Expert
Kelly Piper
... Perfume Expert
Bruce MacVittie
... FBI Tech -- Lecter's Letter
Giannina Facio
... Verger's Fingerprint Technician
Andrew C. Boothby
... Police Officer
Kenneth W. Smith
... Police Sergeant
Judie Aronson
... News Reporter
Tom Trigo
... News Reporter
Sam Wells
... News Reporter
Ric Young
... News Reporter
Joseph M. West, Jr.
... News Reporter
Roberta Armani
... Theatergoer
Johannes Kiebranz
... Mr. Konie
Bruno Lazzaretti
... Dante
Danielle de Niese
... Beatrice
REVIEWS
Review by anonymous (posted on 14-Apr-2005)
Inspired casting - Hopkins IS Hannibal Lecter. Particulary if one had the sense to read the book as well as see the film (they differ considerably, especially in the ending - the FBI couldn't possibly have an errant "lamb" now, could they?) as in 'Hannibal' we get a glimpse of Lecter's own psychology - and in the book, at least, the resolution of his problems - and so see him as the cultured brilliant man he is rather than the horrorshow 'monster' which is, presumably, the main draw. Hopkins portrays a man, who did he exist, I would very much like to meet. I would do my best not to bore him (as Lecter or as himself!). Julianne Moore made a more convincing Clarice Starling than Jodie Foster who left barely any impression on my mind in Silence of The Lambs - in fact, Moore's face has replaced Foster's in my mind; I have to consciously remind myself that Foster refused to play Starling in Hannibal. No loss. One great shame was that Mason Verger's sister didn't appear in the film (difficulty in casting or budget constraints?); she is a strong character in the book who evokes a lot of sympathy - something I cannot feel for Verger! I sincerely hope some idiot doesn't try to make a sequel - the alteration of the ending left things a little open-ended whereas the book makes it plain that the author doesn't intend to flog the character for every last cent - let's hope some writer of screenplays isn't bribed into attempting to imitate the inimitable.
---
Do you know something we don't?
Submit a correction or make a comment about this profile

Copyright ©2019 Soylent Communications