Cast Away (7-Dec-2000)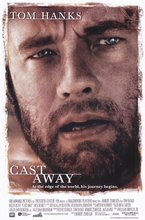 Director: Robert Zemeckis
Writer: William Broyles, Jr.
Keywords: Drama, Airplane Crash, Mystery Package




A FedEx employee marooned on a remote island following a plane crash must fight to survive and make his way back to civilization.
ABSTRACT
White-collar success-obsessed FedEx systems analyst Chuck Noland lives in Memphis, Tennessee with long-term girlfriend Kelly Frears, maintaining a mutual desire to get married that always seems to be interrupted by his hectic work schedule. Chuck's troubles back home suddenly seem as far away as his ultimate destination when he is sent to Malaysia to resolve a company problem around Christmas, eventually forced to spend years fending for himself on a deserted island with nothing but a volleyball named "Wilson" for companionship when his plane crashes somewhere near Fiji.
[watch trailer]
REVIEWS
Do you know something we don't?
Submit a correction or make a comment about this profile

Copyright ©2019 Soylent Communications