Adam & Steve (24-Apr-2005)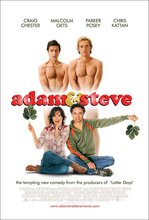 Director: Craig Chester
Writer: Craig Chester
Music Composed by: Roddy Bottum
Producers: George Bendele; Kirkland Tibbels
Keywords: Romantic Comedy, Gay




Two gay men meet at Danceteria in the 1980s and have a less-than-optimal one night stand. Twenty years later, they meet again and become a couple without having realized their earlier dalliance. Straightforward romantic comedy of uneven quality.
CAST
Craig Chester
... Adam
Malcolm Gets
... Steve
Parker Posey
... Rhonda
Chris Kattan
... Michael
Melinda Dillon
... Dottie
Paul Sand
... Norm
Michael Panes
... Lou
Noah Segan
... Twink
Kristen Schaal
... Ruth
Jackie Beat
... Herself
Thomas Kopache
... Joe
Deb Lemen
... Blonde Woman
with
Sally Kirkland
... Mary
Julie Hagerty
... Sherry
Cary Curran
... Cary
Mario Diaz
... Orlando
Lisa Frederickson
... Fiona
Sandy Martin
... Biker Chick
Jennifer Echols
... Triage Nurse
Jack Guzman
... Security Guard
Maxine Prescott
... Elderly Lady
Brandon Miller
... Survivalist in Park
Augi Amarino
... Drunk Patron
Steve Geary
... Andy
La Na Shi
... Ling Ling
Todd Robert Anderson
... Charlie
Nadya Ginsburg
... Miranda
Dennis James Ignarra
... Juice Bar Guy
David Pevsner
... Man in Hospital
Dazzle Dancers
Cary Curran
... Cherry Dazzle
Justin Christopher
... Pretty Boy Dazzle
Shannon Robert Bowen
... Robbie Dazzle
Viva Ruiz
... Propecia Destiny Dazzle
Gregg Guinta
... Vinnie Dazzle
J. Todd Phillips
... Hole Dazzle
James Cavera
... Sochny Dazzle
Linsey Bostwick
... Edible Dazzle
Dazzle Dancer Choreography
Andrew Flatt
... Roxy Dazzle
Carry Curran
... Cherry Dazzle
Rodeo Dancers
Ronnie Allan
... Rodeo Dancer
Tony Cordell
... Rodeo Dancer
Jimmy Cervera
... Rodeo Dancer
Troy Christian
... Rodeo Dancer
Marco Antonio De La Cruz
... Rodeo Dancer
Dominic Chaiduang
... Rodeo Dancer
Scott Grossman
... Rodeo Dancer
Ryan Heffington
... Rodeo Dancer
Evereth Lopez
... Rodeo Dancer
Scott Simmons
... Rodeo Dancer
Kevin Stea
... Rodeo Dancer
Boy Thomas
... Rodeo Dancer
Jonathan Todd
... Rodeo Dancer
Eric W. Underwood
... Rodeo Dancer
Quinton Weathers
... Rodeo Dancer
Scott Alan Hislop
... Rodeo Dancer
REVIEWS
Review by Brian S. (posted on 24-Apr-2007)
An inspiring movie about fighting for love – and nobody dies! It is a great laugh, a great cry, and allows pause for reflection. Adam and Steve take us on their journey's of self-discovery, Adam realizes he is worthy of love and Steve finally comes to understand life is sometimes just messy; a touching movie that tackles the real issues in a surreal manner.
---
Do you know something we don't?
Submit a correction or make a comment about this profile

Copyright ©2019 Soylent Communications