Brick (2005)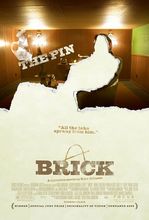 Director: Rian Johnson
Writer: Rian Johnson
Music by: Nathan Johnson
Producers: Ram Bergman; Mark G. Mathis
Keywords: Mystery




A teenager looking to solve the mystery behind his ex-girlfriend's death charts a course through the seedy underbelly of a high school drug ring.
ABSTRACT
Brendan, a loner and high school student, finds ex-girlfriend Emily dead near a sewage tunnel just days after an attempt to compel her to turn away from unsavory influences in her life. Determined to solve the mystery behind her murder and perhaps bring about a measure of justice, Brendan uses four clue words ("brick" among them) provided to him by Emily prior to her death to deduce the identity of her killer, setting out on a journey alongside geeky pal Brain that sees him meeting a number of teenage drug dealers on his way to a confrontation with a leader called The Pin.
CAST
REVIEWS
Review by anonymous (posted on 11-Oct-2006)
Brick is GENIUS. It didn't lose me for a minute. Brendan is a god-like mixture of bravery and razor intellect. He's a highschool student who is hunting his ex-girlfriend's killer. He throws out slang I've never heard (yet I'm old)and uses private detective speak in lightning fast conversations. You really have to listen. The part calls for an actor who isn't light in the brain either and Joseph Gordon-Levitt is fast off the mark. He's goodlooking enough to withstand perilous camera angles but still convinces one he's the passionately stirred introvert. He's all fight but keeps his hands in his pockets, dangerous and nearly unstrung beneath his curly hair and glasses. I'm not out to tell the story here, just to say watch the movie, especially if you've had a little too much American Pie lately.
---
Do you know something we don't?
Submit a correction or make a comment about this profile

Copyright ©2019 Soylent Communications