Joy Ride (9-Sep-2001)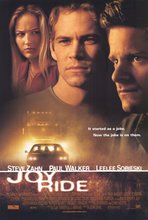 Director: John Dahl
Writers: J. J. Abrams; Clay Tarver




Lewis Thomas, a Berkeley college student wrapping up his freshman year of school, sets out on a road trip with longtime friend Venna as part of a plan to strike up a romance with her, later bringing older brother Fuller along at the insistence of his mother. The troublemaking Fuller's purchase of a CB radio proves to be the group's terrifying undoing, however, as a harmless prank played on trucker "Rusty Nail" turns into a fight for their survival after he reveals himself to be a vicious killer with knowledge of their whereabouts.
REVIEWS
Review by Harry Pasquale (posted on 19-Feb-2005)
Joy Ride, also known as Roadkill, is a simulation of Steven Spielberg's Duel. The plot is when Lewis Thomas (Paul Walker), a young man, finds his brother, Fuller (Steve Zahn) in custody of the police, while going to pick up his girlfriend. But Lewis and his brother are put in danger when a radio prank goes wrong.
When a psychotic trucker is looking for a woman strangely nicknamed "Candy Cane", and a man cheeks Fuller, Lewis is forced to pretend to be Candy Cane by his brother, and tell the man that Candy's in the rude man's motel room.
But when the rude man is found with his jaw ripped out, the attacker, known only as Rusty Nail, tracks down the two boys when they run off.
Great scenes include Rusty Nail's explosive plot conclusion, a frenzied chase through a corn field, and some great shots of the brother's (seriously sexy) backsides as they are forced to walk naked into a restaurant.
Highly recommended.
---
Do you know something we don't?
Submit a correction or make a comment about this profile

Copyright ©2019 Soylent Communications