The Seven Samurai (26-Apr-1954)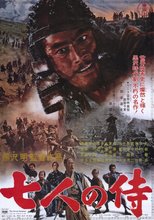 Original Title: Shichinin no samurai
Director: Akira Kurosawa
Writers: Shinobu Hashimoto; Akira Kurosawa; Hideo Oguni
Keywords: Action/Adventure, Japan




A 16th-century Japanese village has become the repeated target of bandits; they hire a ronin, or masterless samurai, to help in their defense. The ronin recruits five other ronin and an apprentice. The seven live among the villagers, educating them in defense and discipline. Received Oscar nominations for Best Set Decoration and Best Costume Design. Won the Leone d'Argento at the Venice Film Festival.
| Name | Occupation | Birth | Death | Known for |
| --- | --- | --- | --- | --- |
| Toshirô Mifune | Actor | 1-Apr-1920 | 24-Dec-1997 | Yojimbo |
| Takashi Shimura | Actor | 12-Mar-1905 | 11-Feb-1982 | The Seven Samurai |
REVIEWS
Review by vamsee (posted on 21-Feb-2005)
A small village is under constant attack from armed bandits on horses. When the villagers consult their elder, he suggests that since they cannot defend themselves, they should find out-of-work fighters, samurais, to defend the village.
The villagers find seven such samurais. The deal is to provide them with three meals a day and the samurais in return, will protect the village. Most of the movie shows the defences set up by the Samurais and how they train the villagers in combat techniques. The grand finale is when 40 plus bandits armed with three guns attack the village.
---
Do you know something we don't?
Submit a correction or make a comment about this profile

Copyright ©2019 Soylent Communications