Twelve Monkeys (27-Dec-1995)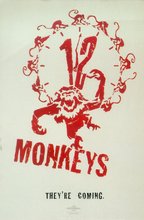 Director: Terry Gilliam
Writers: David Peoples; Janet Peoples
Music Composer and Conductor: Paul Buckmaster
Producer: Charles Roven
Keywords: Sci-Fi, Time Travel, Dystopian, Insane Asylum, Virus




Convict James Cole volunteers to be sent back in time to collect information about a virus released in 1996 that kills 99% of Earth's population. Received two Oscar nominations including Brad Pitt for Best Supporting Actor. Perhaps the best science fiction film of the 1990s. Retelling of the short film, La jetée (1962).
[watch trailer]
CAST
Bruce Willis
... James Cole
Madeleine Stowe
... Kathryn Railly
Brad Pitt
... Jeffrey Goines
Starring
Christopher Plummer
... Dr. Goines
Frank Gorshin
... Dr. Fletcher
Jon Seda
... Jose
Ernest Abuba
... Engineer
Bill Raymond
... Microbiologist
Simon Jones
... Zoologist
Bob Adrian
... Geologist
Carol Florence
... Astrophysicist
H. Michael Walls
... Botanist
Joseph Melito
... Young Cole
Michael Chance
... Scarface
Vernon Campbell
... Tiny
Irma St. Paule
... Poet
Joey Perillo
... Det. Franki
Bruce Kirkpatrick
... Policeman No. 1
Wilfred Williams
... Policeman No. 2
Rozwill Young
... Billings
Nell Johnson
... Ward Nurse
Fred Strother
... L. J. Washington
Rick Warner
... Dr. Casey
Anthony "Chip" Brienza
... Dr. Goodin
Joilet Harris
... Harassed Mother
Drucie McDaniel
... Waltzing Woman Patient
John Blaisse
... Old Man Patient
Louis Lippa
... Patient at Gate
Stan Kang
... X-Ray Doctor
Pat Dias
... WWI Captain
Aaron Michael Lacey
... WWI Sergeant
David Morse
... Dr. Peters
Charles Techman
... Professor
Jann Ellis
... Marilou
Johnnie Hobbs, Jr.
... Officer No. 1
Janet L. Zappala
... Anchorwoman
Thomas Roy
... Evangelist
Harry O'Toole
... Louie -- Raspy Voice
Korchenko
... Thug No. 1
Chuck Jeffreys
... Thug No. 2
Lisa Gay Hamilton
... Teddy
Felix A. Pire
... Fale
Matt Ross
... Bee
Barry Price
... Agent No. 1
John Panzarella
... Agent No. 2
Larry Daly
... Agent No. 3
Arthur Fennell
... Anchorman
Karl Warren
... Pompous Man
Christopher Meloni
... Lt. Halperin
Paul Meshejian
... Det. Dalva
Robert O'Neill
... Wayne
Kevin Thigpen
... Kweskin
Lee Golden
... Hotel Clerk
Joseph McKenna
... Wallace
Jeff Tanner
... Plain Clothes Cop
Faith Potts
... Store Clerk
Michael Ryan Segal
... Weller
Annie Golden
... Woman Cabbie
Lisa Talerico
... Ticket Agent
Stephen Bridgewater
... Airport Detective
Franklin Huffman
... Plump Businessman
JoAnn S. Dawson
... Gift Store Clerk
Jack Dougherty
... Airport Security No. 1
Lenny Daniels
... Airport Security No. 2
Herbert C. Hauls, Jr.
... Airport Security No. 3
Charley Scalies
... Impatient Traveler
Carolyn Walker
... Terrified Traveler
REVIEWS
Review by seabrainiac (posted on 23-May-2005)
This is one of the few films that survived both my initial enthusiasm and my re-viewing several years later. That we can see the end coming in no way diminishes the impact, even as the lead character slowly realizes what will be his own end. The appearance of a dirty, imprisoned, desolate, uncertain and not always technologically functional future is the downside of Gilliam's future envisioned in "Brazil" - if you could call Brazil's future an upside by comparison.
---
Do you know something we don't?
Submit a correction or make a comment about this profile

Copyright ©2019 Soylent Communications