Town Without Pity (24-Mar-1961)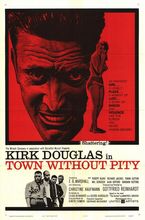 Director: Gottfried Reinhardt
Writers: Jan Lustig; Silvia Reinhardt; George Hurdalek
From novel: The Verdict by Manfred Gregor
Music by: Dimitri Tiomkin
Producer: Gottfried Reinhardt
Keywords: Drama, Rape, Courtroom




Four American soldiers stand trial for the rape of a teenage girl in Occupied Germany. Her father demands a death sentence; the soldiers' counsel is aware he must destroy the girl's reputation to avoid the harshest penalty. Excellent performances in this docudrama modeled after a 1956 gang rape in Bamberg, though with ethnicities changed. Received an Oscar nomination for Best Original Song.
REVIEWS
Review by anonymous (posted on 18-Sep-2006)
Why did they make the rapists all white when in fact they were black? This is based on a true story involving 5 black men from "H" Company 2nd Battalion 85th Infantry Regiment 10th Mountain Division stationed in Bamberg. I was there in "G" Company and was involved in the shake down to find the rapists. As I recall it took place in 1957. They were held in the regimental guard house until the regimental guards threatened to shoot them. The MP;s then took them to Wurzburg under Division control. For about 6 months following this incident we were not allowed to go on pass in Bamberg. The Germans had the right to try these men but wanted the military to do it because they, the Germans, did not have a death penalty and the military did.
---
Review by Edmund Blash (posted on 5-Nov-2008)
A now seldom seen B&W film about US GI's in post-WW II Germany, who rape a local German girl. Although the proof is greatly in favor of the prosecution, US military law demands that a defense be presented absence any confessions by the GI's. The thankless job befalls that of Army JAG officer, Kurt Douglas. The JAG officer renders his best investigative and legal skills to defend the GI's, who he knows are obviously guilty of the rape. In tracking down the details of the case, Kurt Douglas discovers that the small German town in which the innocent young German girl has grown up is not filled with sympatric supporters, but small minded and vicious, self-engrossed people. Like any good lawyer who defends his clients, Kurt Douglas is forced to tear down the character of the rage victim, making her plight all the more serious. While the purported 'sins of the girl' are made public in the courtroom, the town's citizens revel in the mud slinging, no effort is made to support or defend the local girl. Justice is done when the US GI's are convicted to long jail terms, yet the innocent girl has also been 'convicted' in the minds of the German town people; she can go no where without being starred at, spoken about or laughed at, even at home, her family takes offense with their now publicly ridiculed daughter who is no longer as 'pure as the German first snow'. The girl cannot take it any longer and decides to end her life by taking her own life. Kurt Douglas on hearing of the girl's suicide, gets physically sick at both the news and in his indirect role in providing 'too good of a defense' to those who were the real guilty parties. Kurt Douglas leaves the town with perhaps more maturity and self-doubts than before he had taken this case. A good film with an appropriate early 1960's song by Gene Pitney. ED BLASH Mountaintop, Pa
---
Do you know something we don't?
Submit a correction or make a comment about this profile

Copyright ©2019 Soylent Communications