Thirteen (17-Jan-2003)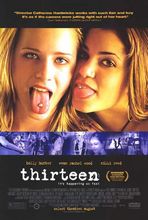 Director: Catherine Hardwicke
Writers: Catherine Hardwicke; Nikki Reed
Music by: Mark Mothersbaugh
Producers: Jeffrey Levy-Hinte; Michael London
Keywords: Drama, Coming of Age




A straight-laced thirteen-year old girl's discovery of destructive vices puts her at odds with her mother and old surroundings.
ABSTRACT
Tracy Freeland is a smart, if somewhat troubled, thirteen-year old girl, earning straight As in school yet occasionally smoking and cutting to cope with troubles in her home life. A friendship formed with immensely popular classmate Evie Zamora sends young Tracy on a destructive coming-of-age journey filled with vice and crime, placing her at odds with her mother and old friends as she struggles to navigate her brave new world.
CAST
REVIEWS
Review by Alvinicus (posted on 14-Feb-2005)
This is a very fast-paced, edge-of the-seat movie about two teenage girls spiraling out of control in a precocious spree of sex, drugs and crime. So convincing that you had to keep reminding yourself it was only a movie, although you have to believe there was some (auto)biography in there somewhere. Holly Hunter shines as the down-to-earth, doing-the-best-she-can Mom. Story has a positive, but not preachy, ending. Very cool soundtrack.
---
Do you know something we don't?
Submit a correction or make a comment about this profile

Copyright ©2019 Soylent Communications