Dogma (12-Nov-1999)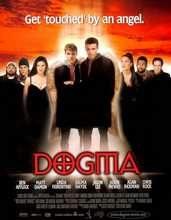 Director: Kevin Smith
Writer: Kevin Smith
Keywords: Dark Comedy, Bible, Angels, Controversial, Road Trip




Loki and Bartleby, both fallen angels exiled to Earth (specifically, Wisconsin), intend to take advantage a loophole opened by the grant of a one-time indulgence to celebrate the centennial of a church in New Jersey. Unfortunately, doing so may come at great peril to the continued existence of mankind. Bethany Sloane, last living relative of Jesus Christ, with assistance by slacker prophets Jay and Silent Bob, may be our only salvation. Religious satire, produced on a $10M budget.
REVIEWS
Review by anonymous (posted on 18-Apr-2005)
Maybe it's Kevin Smith's ironic (no pun intended) use of Alanis Morrisette as God and George Carlin as a Cardinal. Maybe it's Chris Rock's view of the Bible. Maybe it's neither. If one takes the obligatory disclaimer at the start of this film seriously, one can really enjoy this confection of a movie. For it is that, merely a confection. There'll be no rewriting Biblical history or secular history. There'll be no world peace as a result of this movie. But so what? Let the movie pull you in. Feel for the characters. The all-star cast is flawless and genuinely entertaining. The movie falls short in explaining away (or just explaining) minor holes in the plot line, but all in all a wonderfully done dark comedy that shouldn't be confused with an attempt to explain, mock or even reconcile the Catholic Faith. I am Catholic myself, in case you were wondering. And I play the piano at mass every Sunday.
---
Do you know something we don't?
Submit a correction or make a comment about this profile

Copyright ©2019 Soylent Communications