Final Fantasy: The Spirits Within (2-Jul-2001)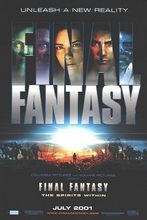 Directors: Hironobu Sakaguchi; Moto Sakakibara
Writers: Hironobu Sakaguchi; Al Reinert; Jeff Vintar
Music Composed by: Elliot Goldenthal
Producers: Hironobu Sakaguchi; Jun Aida; Chris Lee
Keywords: Fantasy, Video Game, Japan




Film adaptation of the video game franchise of the same name follows an Earthly scientist's fight against a vicious alien invasion.
ABSTRACT
A meteor impacts Earth in 2065, unleashing a surprise assault on humanity by vicious alien lifeforms bent on decimating all life standing in the way of their intent to reign supreme over the planet. Caught amidst the chaos is Aki Ross, a gifted scientist whose infection by extraterrestrial particles drives her to race to find a solution to preserve the planet alongside mentor Dr. Sid and a number of military officers.
CAST
REVIEWS
Review by anonymous (posted on 19-Nov-2006)
The movie was amazing. I dont care what anybody else thinks about the plot, because I found it intresting and groundbreaking. I am a devoted fan to the series and I have to admit there were a few flaus but nothing that would make me hate the movie or the series. Just one note. No real boss. I love bosses and enemies. The ghosts were cool but material one on one or 5 on 1 combat is cool. More combat and more materealized enemies would be cool. The graphics were out of this world. Way to go guys. Make more games and could you bring Kefka back to the gaming series. I have thiss game idea. A decade or so after Kefkas destruction everyone has settled but suddenly some of Kefkas helpers appear. A necromancer, a dark Knight and a few others. They colect the crystals and in the middle of the game bring back Kefka. Eventually he is defeated thought.
---
Do you know something we don't?
Submit a correction or make a comment about this profile

Copyright ©2019 Soylent Communications