Ali (11-Dec-2001)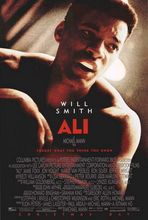 Director: Michael Mann
Writers: Gregory Allen Howard; Stephen J. Rivele; Christopher Wilkinson; Eric Roth; Michael Mann
Music by: Lisa Gerrard; Pieter Bourke
Producers: Jon Peters; James Lassiter; Paul Ardaji; Michael Mann; A. Kitman Ho
Keywords: Drama, Biography, Boxing




Biopic dramatizes the life and career of legendary boxer Muhammad Ali.
ABSTRACT
Boxer Cassius Clay took the United States and planet by storm when he arrived in the world of professional boxing amidst the grittiest days of the Civil Rights Era, acting as a beacon of hope for beleaguered African-Americans with a level of skill, charisma, and self-confidence unparalleled in his sport. Controversy would attach itself to Clay with his conversion to Islam, abandonment of his birth name in favor of moniker Muhammad Ali, and refusal to serve in the Vietnam War, an outsized saga brought to the silver screen in Ali.
[watch trailer]
CAST
Will Smith
... Cassius Clay -- Muhammad Ali
Jamie Foxx
... Drew "Bundini" Brown
Jon Voight
... Howard Cosell
Mario Van Peebles
... Malcolm X
Ron Silver
... Angelo Dundee
Jeffrey Wright
... Howard Bingham
Mykelti Williamson
... Don King
Jada Pinkett Smith
... Sonji
Nona Gaye
... Belinda
Michael Michele
... Veronica
Joe Morton
... Chauncey Eskridge
Paul Rodriguez
... Dr. Ferdie Pacheco
Bruce McGill
... Bradley
Barry Shabaka Henley
... Herbert Muhammad
Giancarlo Esposito
... Cassius Clay, Sr.
Laurence Mason
... Luis Sarria
LeVar Burton
... Martin Luther King, Jr.
Albert Hall
... Elijah Muhammad
David Cubitt
... Robert Lipsyte
Ted Levine
... Joe Smiley
Candy Brown Houston
... Odessa
David Elliott
... Sam Cooke
Shari Watson
... Woman Singer
Malick Bowens
... Joseph Mobutu
Michael Bentt
... Sonny Liston
James N. Toney
... Joe Frazier
Alfred Cole
... Ernie Terrell
Charles Shufford
... George Foreman
Rufus Dorsey
... Floyd Paterson
Robert Sale
... Jerry Quarry
Vincent Cook
... Jimmy Ellis
Damien "Bolo" Wills
... Ken Norton
David Haines
... Rudy Clay -- Rahaman Ali
Victoria Dillard
... Betty Shabazz
Brad Greenquist
... Marlin Thomas
Morgana Van Peebles
... Malcolm X's Daughter
Maya Van Peebles
... Malcolm X's Daughter
Maestro Harrell
... Young Cassius Clay
William Utay
... The Doctor
Kim Robillard
... Jimmy Cannon
David Purdham
... Madison Square Garden Announcer
Gailard Sartain
... Gordon Davidson
Wade Andrew Williams
... Lt. Jerome Claridge
Guy Van Swearingen
... Induction FBI Man
Doug Hale
... Judge Ingraham
LaDonna Tittle
... Bundini's Landlady
Marc Grapey
... Bob Arum
Herb Mitchell
... Boxing Commissioner
Eddie Bo Smith, Jr.
... Malcolm's Bodyguard
Bob Stuart
... Thomas 15X Johnson
Patrick New
... Room Service Guy
Ron OJ Parson
... Death Newsman
Ellis E. Williams
... Family Photo Man
Bokyun Chun
... Asian Cosmetologist
John G. Connolly
... Assistant Director
Warner Saunders
... Customer
Jack Reiss
... Referee Arthur Mercante
Marty Denkin
... Frazier Fight II Announcer
Tamara Lynch
... Flight Attendant
Theron Benymon
... Hampton House Announcer
Bill Plaschke
... Miami Weigh-In Reporter
Steve Springer
... Miami Weigh-In Reporter
Patrick M. Connolly
... Announcer
Patrick C. Russell
... Referee
Robert Byrd
... Willie Reddick
Cedric Wills
... Jersey Joe Walcott, Referee
Ronald A. DiNicola
... Prosecutor
Moses Hollins
... Man on Train
Daniel E. Gurevitz
... Boxing Commission Reporter
Steven Randazzo
... Reporter
Ray Bokhour
... Reporter
Leonard Termo
... Madison Square Garden Reporter
Johnny Ortiz
... Madison Square Garden Reporter
Mark Salem
... New York Reporter
Sheldon Fogel
... New York Reporter
Jim Gray
... New York Reporter
Melvin Thomas
... Harlem Neighbor
Natalie Carter
... Harlem Neighbor
Reginald Barshem Footman
... Harlem Neighbor
Poe Poe
... Harlem Reporter
Mel Dick
... Louisville Sponsoring Group
Kim Taylor Coleman
... Lana Shabazz
Christian Stolte
... Miami Cop
Victor Manni
... Dressing Room Weigh-In Guy
Will Gill, Jr.
... Dick Sadler
Sylvaine Strike
... ORTF Interviewer
Dr. Denis Luposo
... Kinshasa Reporter
Sharon Wilkinson
... Rose Jennings
Carol Hatchett
... Pointer Sister
Judith Mwale
... Pointer Sister
Keabetswe Motsilanyane
... Pointer Sister
Richard Katanga
... Mobutu Aide / Military Aide
Thomas Kariuki Matheri
... Lt. Nsakala
Larry Hazzard, Sr.
... Zack Clayton
Derrick Brown
... Larry Holmes
Rommel Hyacinth
... The Pilot
Graham Hopkins
... London Banker
Daniel Janks
... CIA Man
Bradford E. Lang
... Black Pilot
Michael Dorn
... Black Pilot
Daniel Robbertse
... Reporter in Zaire
Graham Clarke
... Reporter in Zaire
Dimitri Cassar
... Reporter in Zaire
Frank Notaro
... Reporter in Zaire
Mark Mulder
... Reporter in Zaire
David Hess
... Reporter in Zaire
Henrikennyo Mukenyi
... Bula
Nathaniel Malekane
... Archie Moore
Millard Arnold
... Doc Broadus
Edda Collier
... Blonde French Reporter
Wei Yi Lu
... Chinese Delegate
Lee Cummings
... Hunter Thompson
Zaa Nkweta
... Foreman Fight Announcer
Themba Gasa
... Idi Amin
Andrew P. Jones
... Don King's Aide
Marc Kulazite Mboli
... Additional Aide to Mobutu
Cimanga Kalambay
... Additional Aide to Mobutu
Jean Bikoi
... Additional Aide to Mobutu
James Gilbert
... Sparring Partner in Africa
REVIEWS
Review by Michael Lesch (posted on 5-Oct-2010)
While it obviously could be referred to as a boxing picture, this nice Michael Mann biographical effort is more a character study of the one of the most charismatic figures ever to step into the squared circle. Mr. Mann shifts gears appropriately from his heavy action yarns (Thief, Last of the Mohicans, Heat) to provide an insightful look into the life of this legendary boxer as Will Smith pulls off the title role rather well yet regrettably holds back much of the wit, humor and unpredictable antics Ali was known for. As a result, viewer's eyes actually will be more fixated on the dynamite supporting cast including Ron Silver as Ali's longtime trainer Angelo Dundee and Mario Van Peebles playing a formidable Malcolm X. Both of these memorable characters are only to be outdone by an almost unrecognizable Jon Voight as he dons the patented yellow ABC sport jacket and gives an incredible, Oscar nominated performance as the exuberant and controversial Howard Cosell who always seemed to be where Ali roamed the globe. While the film does span 10 years of the famous boxer's life, the major disappointment of the film is the 157 minute which could have been shortened by needles/monotonous training footage sequences.
---
Do you know something we don't?
Submit a correction or make a comment about this profile

Copyright ©2019 Soylent Communications