The Vampire (Jun-1957)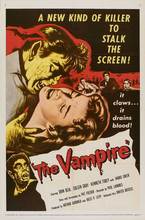 Director: Paul Landres
Writer: Pat Fielder
Music Composed and Conducted by: Gerald Fried
Producers: Arthur Gardner; Jules V. Levy




A small-town physician ingests what he thinks are migraine pills but are actually experimental pills derived from bat serum extract. Over time he comes to the realization that he has committed a series of murders as some sort of blood-sucking hairy vampire. Good script for this Jekyll-and-Hyde story, making a superior example of this genre.
| Name | Occupation | Birth | Death | Known for |
| --- | --- | --- | --- | --- |
| John Beal | Actor | 13-Aug-1909 | 26-Apr-1997 | The Little Minister |
| Paul Brinegar | Actor | 19-Dec-1917 | 27-Mar-1995 | Wishbone on Rawhide |
| Coleen Gray | Actor | 23-Oct-1922 | 3-Aug-2015 | Nightmare Alley |
| Dabbs Greer | Actor | 2-Apr-1917 | 28-Apr-2007 | Rev. Alden on Little House |
| Kenneth Tobey | Actor | 23-Mar-1917 | 22-Dec-2002 | Chuck Martin on Whirlybirds |
| Herb Vigran | Actor | 5-Jun-1910 | 29-Nov-1986 | Television character actor |
CAST
REVIEWS
Review by Keith Elliott (posted on 22-Feb-2008)
The Vampire (1957) was one of the typical 1950's B monster movies, but this one was pretty scary in parts, at least to a 10 year old. John Beal played a small town doctor who was exposed to the blood of a patient who turned out to be a vampire. What made the movie scary to me was the excellent makeup that was used on Beal. He was not your average sauve looking vampire. His skin became all wrinkled and loose, like he was very old, or had been burned in a fire, and he had very thick, dark eyebrows that were frightening. The vampire makeup made the movie.
---
Do you know something we don't?
Submit a correction or make a comment about this profile

Copyright ©2019 Soylent Communications