Dog Day Afternoon (21-Sep-1975)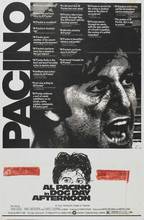 Director: Sidney Lumet
Writer: Frank Pierson
Producers: Martin Bregman; Martin Elfand
Keywords: True Crime, Gay, Bank Robbery, Hostage Situation, New York, Brooklyn




Sonny Wortzik and his accomplice Sal rob a bank to get money to pay for Sonny's lover's sex change operation. The robbery goes awry and devolves into a hostage situation; Sonny tries to figure a way out while Sal frets over the media incorrectly labeling him a homosexual. Won Oscar for Best Screenplay; received nominations for Best Picture, Best Director, Best Actor and Supporting Actor, and Best Editing.
[watch trailer]
CAST
The Bank
Penelope Allen
... Sylvia
Sully Boyar
... Mulvaney
John Cazale
... Sal
Beulah Garrick
... Margaret
Carol Kane
... Jenny
Sandra Kazan
... Deborah
Marcia Jean Kurtz
... Miriam
Amy Levitt
... Maria
John Marriott
... Howard
Estelle Omens
... Edna
Al Pacino
... Sonny
Gary Springer
... Stevie
The Law
James Broderick
... Sheldon
Charles Durning
... Moretti
Carmine Foresta
... Carmine
Lance Henriksen
... Murphy
Floyd Levine
... Phone Cop
Dick Anthony Williams
... Limo Driver
The Family
Dominic Chianese
... Father
Marcia Haufrecht
... Neighbor
Judith Malina
... Mother
Susan Peretz
... Angie
Chris Sarandon
... Leon
The Street
William Bogert
... TV Anchorman
Ron Cummins
... TV Reporter
Jay Gerber
... Sam
Philip Charles MacKenzie
... Doctor
Chu Chu Malave
... Maria's Boyfriend
Lionel Pina
... Pizza Boy
REVIEWS
Review by anonymous (posted on 12-Oct-2006)
Dog day Afternoon is by far one of the most important films of all time. It is quite possibly the best Al Pacino film ever made. It is his unrelenting performance as Sonny that you begin to see why he is one of the most influenciel actors of all times. He turned the role of a bank robber stealing money for his 'wifes' sex change operation into a role that every one could love. He is intense, passionate and raw that you almost want to jump into the movie and tell him that it is just that. A movie. A fine piece of work that will change your veiws as well as give you an entertaing couple of hours. At times the film is irrevrent, dramatic, strange, dark, twisted and even a little romantic. Sonny is not a cruel man who was terrible to his hostages that is the biggest misconception someone can have going into it. If you think that Sonny is the typical violent thief you are sorely mistaken. The story-based on a true story- is a roller coaster of rides that will force you to re-examine your veiw of bank robbers. Pacino's performance as an anti-establishment hero will make you feel bad for this guy. Which is I think one of the most powerful parts of the film. If you haven't experienced the film your missing out on more than just a good movie your missing out on something that will forever change the way you look at films, people, and sexuality in general. The film also contains the famous line "ATTICA! ATTICA!"
---
Do you know something we don't?
Submit a correction or make a comment about this profile

Copyright ©2019 Soylent Communications