Scent of a Woman (23-Dec-1992)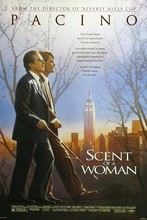 Director: Martin Brest
Writer: Bo Goldman
From novel: Il Buio e Il Miele by Giovanni Arpino
Music by: Thomas Newman
Producer: Martin Brest
Keywords: Drama, Blindness, New York




College prep student Charlie Simms needs some money over and above that supplied by his scholarship; he agrees to assist a blind veteran, the self-destructive, embittered Lt. Col Lt. Col. Frank Slade, for a Thanksgiving weekend in New York City. But Charlie is not aware of Slade's actual agenda. Al Pacino won the Oscar for Best Actor; the film received additional nominations for Best Picture, Best Director, and Best Screenplay. Remake of Scent of a Woman (1974), an Italian film.
[watch trailer]
CAST
Al Pacino
... Lt. Col. Frank Slade
Chris O'Donnell
... Charlie Simms
James Rebhorn
... Mr. Trask
Gabrielle Anwar
... Donna
Richard Venture
... W. R. Slade
Bradley Whitford
... Randy
Ron Eldard
... Officer Gore
Philip Seymour Hoffman
... George Willis, Jr.
Rochelle Oliver
... Gretchen
Margaret Eginton
... Gail
Tom Riis Farrell
... Garry
Nicholas Sadler
... Harry Havemeyer
Todd Louiso
... Trent Potter
Matt Smith
... Jimmy Jameson
Gene Canfield
... Manny
Frances Conroy
... Christine Downes
June Squibb
... Mrs. Hunsaker
Sally Murphy
... Karen Rossi
Michael Santoro
... Donny Rossi
Alyson Feldman
... Francine Rossi
Erika Feldman
... Francine Rossi
Julian Stein
... Willie Rossi
Max Stein
... Willie Rossi
Anh Duong
... Sofia
Leonard Gaines
... Freddie Bisco
David Lansbury
... Michael
Joseph Palmas
... Bellhop
Baxter Harris
... George Willis, Sr.
Francie Swift
... Flight Attendant
Michael Simon
... Oak Room Waiter
William Beckwith
... Oak Room Maitre D
Mansoor Najeeullah
... Skycap
J. T. Cromwell
... Ballroom Waiter
Peter Carew
... Bootblack
Paul Stocker
... Doorman
Michael Lisenco
... Cab Driver
Divina Cook
... Night Maid
REVIEWS
Review by Joseph (posted on 14-Feb-2008)
This movie shows that a gruff character (al pacino) is capable of a delicate balance and poise unseen for the most part in nature. Al pacino's provacative personality in this movie makes it a lesson for the viewers and is not disingenuine for the characters shortcomings as he teaches us that we are not powerless over being blind. Al Pacinos insidious sense of integrity seems to blossom after meeting Charlie (Chris O'donnel) and step by step the two of them compliment one another in a journey together entwined by very opposite personal needs. But, the beauty never fades in this movie. Al Pacino seems to be the very persona of a web of character traits that has a natural tendency to enthral Charlie and throughout the movie never ceases to amaze both charlie and the viewer. At the same time charlie's vulnerable and somewhat needy character finds himself as the master and teacher of Pacinos own destiny, if not in a benign way. Always invigorating, this movie covers a wide array of personal principles and moral declarations sure to keep the interest of the audience. At some point in our lives, it would be a good thing to meet up with a Colonel Slade or a Charlie, somewhere, somehow.
---
Review by Aymee Raemund (posted on 10-Feb-2005)
Scent of a Woman is for both audiences; it tickles concious emotions of females, and challenges the knowledge of males. Al Pacino creates a beautiful character whose struggles (one of them being blindness) set him back after a life of regret. After the protagonist takes a young man under his wing, he accepts these regrets and learns to live and love again. Pacino's character places women at a status on which a lot women would love to be; to him, women define beatuy. The movie is daring and spontaneous, and Pacino sets the stage for a masterpiece once again.
---
Do you know something we don't?
Submit a correction or make a comment about this profile

Copyright ©2019 Soylent Communications