An Inconvenient Truth (24-Jan-2006)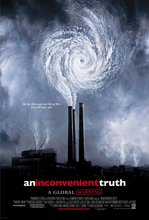 Director: Davis Guggenheim
Keywords: Documentary, Global Warming, Environmentalism




Political documentary centers on Al Gore's efforts to raise public awareness of the phenomenon of climate change.
ABSTRACT
Former Vice President Al Gore crafted a reputation for himself as an environmental activist in the aftermath of his razor-thin loss in the 2000 Presidential election, traveling the globe delivering lectures on Earth's rapidly destabilizing climate and humanity's role in exacerbating this problem. An Inconvenient Truth follows Gore, public speaker and provocateur, on his journey to communicate his dire warning to the general population.
| Name | Occupation | Birth | Death | Known for |
| --- | --- | --- | --- | --- |
| Al Gore | Politician | 31-Mar-1948 | | US Vice President under Clinton |
| Billy West | Actor | 16-Apr-1952 | | Futurama voices, Ren and Stimpy |
REVIEWS
Review by anonymous (posted on 12-Oct-2006)
Seeing Al Gore as a real public servant is enlightening and satisfying. This documentary is a must-see for every citizen who thinks global warming is a myth... well, maybe just every citizen. This is Gore's REAL work. . . informing and educating us about a matter so serious, only someone with his profile could convince us of our responsibilities to the planet. Really good stuff.
---
Review by anonymous (posted on 15-Sep-2006)
An Inconvenient Truth starring Al Gore. Too much Al Gore featured, was an unfortunate distraction from the facts presented. Did not find Al Gore at all inspiring, his ego got in the way for me....which seemed to extinguish any sense of passion I might otherwise have felt from him...though it may have been the fault of those camera person's who just found him simply irresistable! Sadly, an opportunity missed, it is never enough to state the facts, however much the facts ring true. I don't believe there is any room for self in the process of engagement, Al Gore lacks a sense of humility to connect him to humanity. Sorry Al, stars are for the message rather than the messenger...my inconvenient truth.
---
Do you know something we don't?
Submit a correction or make a comment about this profile

Copyright ©2019 Soylent Communications