The Wild Bunch (18-Jun-1969)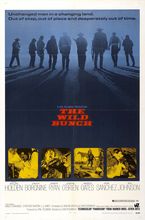 Director: Sam Peckinpah
Writers: Walon Green; Sam Peckinpah; Roy N. Sickner
Music by: Jerry Fielding
Producer: Phil Feldman
Keywords: Western, Mexico, Explosions




Set in 1913 Texas, Pike Bishop and his gang of aging outlaws try for one more big score, a shipment of U.S. Army guns, which they intend to sell to a Mexican general fighting Pancho Villa. History has passed such men by; it is the end of the Old West. Sam Peckinpah's masterpiece is still shocking today. Received Oscar nominations for Best Score and Best Screenplay. Entered 1999 into the National Film Registry.
[watch trailer]
CAST
William Holden
... Pike
Ernest Borgnine
... Dutch
Robert Ryan
... Thornton
Edmond O'Brien
... Sykes
Warren Oates
... Lyle Gorch
Co-Starring
Jaime Sanchez
... Angel
Ben Johnson
... Tector Gorch
Also Starring
Emilio Fernandez
... Mapache
Strother Martin
... Coffer
L. Q. Jones
... T. C.
Albert Dekker
... Harrigan
with
Bo Hopkins
... Crazy Lee
Dub Taylor
... Wainscoat
Jorge Russek
... Zamorra
Alfonso Arau
... Herrera
Chano Urueta
... Don Jose
Sonia Amelio
... Teresa
Aurora Clavel
... Aurora
Elsa Cardenas
... Elsa
Paul Harper
... Ross
Bill Hart
... Jess
Rayford Barnes
... Buck
Steve Ferry
... Sgt. McHale
Enrique Lucero
... Ignacio
Elizabeth Dupeyron
... Rocio
Yolanda Ponce
... Yolis
Jose Chavez
... Juan Jose
Rene Dupeyron
... Juan
Pedro Galvan
... Benson
Graciela Doring
... Emma
Major Perez
... Perez
Fernando Wagner
... Mohr
Jorge Rado
... Ernst
Ivan Scott
... Paymaster
Seņora Madero
... Margaret
Margarito Luna
... Luna
Chalo Gonzalez
... Gonzalez
Lilia Castillo
... Lilia
Elizabeth Unda
... Carmen
Julio Corona
... Julio
REVIEWS
Review by anonymous (posted on 9-Aug-2006)
This film, a western, is almost universally agreed to be a masterpiece, and is usually included on critics' lists of the best films of all time. The tale of a bunch of ruthless outlaws who are past their prime and out of time, it features a cast with four Oscar-winners (Holden, Johnson, Borgnine and O'Brien). The screenplay was written by Walon Green and Roy Sickner, and the dialog has an authenticity rare in film of any genre. Director Sam Peckinpaugh, a Westerner by birth, staged the film in such a way that, as one critic observed, one can "feel the dust". The film is famous for its violence, and drew much criticism for "glorifying violence", but the violence is stylized and almost balletic. The film combines humor and sadness, courage and despair, squalor and beauty. In the end, most of the Wild Bunch are killed, and this brings on a genuine sadness and sense of loss. It is difficult to experience the film on DVD in quite the same way it appeared in theaters almost 40 years ago. On the big screen, the power of the film was almost overwhelming.
---
Do you know something we don't?
Submit a correction or make a comment about this profile

Copyright ©2019 Soylent Communications