West Side Story (18-Oct-1961)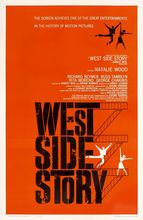 Directors: Robert Wise; Jerome Robbins
Writer: Ernest Lehman
From a play: West Side Story by Arthur Laurents
Music by: Leonard Bernstein
Keywords: Musical, Romantic Drama, New York, Gangs




Shakespeare's Romeo and Juliet told as a musical set between two rival street gangs in New York City. Leaders of the gangs decide an all-out rumble will settle things. But then Tony, a member of the Jets, and Maria, sister of the leader of the Sharks, fall in love. Won 10 Oscars including Best Picture, Best Director, Best Actor, Best Supporting Actress, Best Cinematography and Best Score; received a nomination for Best Screenplay. Watch only the widescreen, restored version.
[watch trailer]
| Name | Occupation | Birth | Death | Known for |
| --- | --- | --- | --- | --- |
| Richard Beymer | Actor | 20-Feb-1938 | | Tony in West Side Story |
| George Chakiris | Actor | 16-Sep-1934 | | West Side Story |
| Rita Moreno | Actor | 11-Dec-1931 | | West Side Story, Electric Company |
| Simon Oakland | Actor | 28-Aug-1915 | 29-Aug-1983 | Tony Vincenzo on Kolchak |
| Russ Tamblyn | Actor | 30-Dec-1934 | | Seven Brides for Seven Brothers |
| Natalie Wood | Actor | 20-Jul-1938 | 29-Nov-1981 | Rebel Without A Cause |
CAST
Natalie Wood
... Maria
Co-Starring
Richard Beymer
... Tony
Russ Tamblyn
... Riff
Rita Moreno
... Anita
with
George Chakiris
... Bernardo
Simon Oakland
... Schrank
Ned Glass
... Doc
William Bramley
... Krupke
Jets
Tucker Smith
... Ice
Tony Mordente
... Action
David Winters
... A-rab
Eliot Feld
... Baby John
Bert Michaels
... Snowboy
David Bean
... Tiger
Robert Banas
... Joyboy
Scooter Teague
... Big Deal
Harvey Hohnecker
... Mouthpiece
Tommy Abbott
... Gee-Tar
Their Girls
Susan Oakes
... Anybodys
Gina Trikonis
... Graziella
Carole D'Andrea
... Velma
Sharks
Jose De Vega
... Chino
Jay Norman
... Pepe
Gus Trikonis
... Indio
Eddie Verso
... Juano
Jaime Rogers
... Loco
Larry Roquemore
... Rocco
Robert Thompson
... Luis
Nick Covacevich
... Toro
Rudy Del Campo
... Del Campo
Andre Tayir
... Chile
Their Girls
Yvonne Othon
... Consuelo
Suzie Kaye
... Rosalia
Joanne Miya
... Francisca
REVIEWS
Review by anonymous (posted on 9-Mar-2006)
Greatest movie ever modern day Romeo and Juliet. Great music and acting fantastic dancing. Story line is happy and sad. I think this is a classic. Natalie Wood was superb. She gave a real feel of the part when you watched her you believed that this was true and she was really Puerto Rican. All the actors and actresses where great and took the parts seriously enough that they put you in the middle of the scene, and you got lost in the story and the emotion. The dancing was wonderful giving just the right edge to this with the song writing as expressive and creative. When Bernardo dies and Riff dies you panic and when Tony tries to get the Jets to stop the fight you hope nothing will happen to get the Jets and Sharks into another fight. Of course you know that it will. Then when Maria finds Tony and Chico kills Tony your heart breaks and bleeds for Maria and the love they will never have. All they want is to get away from everyone and be married and have a happy life. I love this movie one of my all time favorites.
---
Do you know something we don't?
Submit a correction or make a comment about this profile

Copyright ©2019 Soylent Communications