The Adventures of Pluto Nash (16-Aug-2002)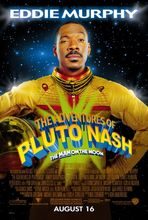 Director: Ron Underwood
Writer: Neil Cuthbert
Keywords: Sci-Fi/Comedy




A lunar nightclub owner searches for the organized criminals responsible for decimating his beloved property.
ABSTRACT
Ex-criminal Pluto Nash purchases a nightclub on the Moon in an intergalactic future where an increasingly uninhabitable Earth forced humans to reach for the stars, transforming it into an ultra-cool nightlife destination called "Club Pluto". Pluto crosses paths with Dina Lake, a drifter stranded on the Moon looking for work so she can earn a trip home; accosted by mobsters intent on wresting control of Club Pluto away from him and turning it into a casino who lay waste to his beloved property, Pluto must set out on an adventure with Dina in tow to avenge their destruction.
A critical and commercial bomb, The Adventures of Pluto Nash cemented Eddie Murphy's reputation as a purveyor of gimmicky schlock too far gone from his career zenith with worldwide box office receipts of just over $7,000,000 on a budget of $100 million.
[watch trailer]
REVIEWS
Do you know something we don't?
Submit a correction or make a comment about this profile

Copyright ©2019 Soylent Communications