American History X (30-Oct-1998)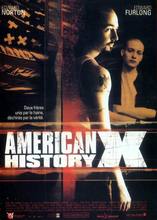 Director: Tony Kaye
Writer: David McKenna
Music by: Anne Dudley
Producer: John Morrissey
Keywords: Drama, Prison, Skinheads, Nazis, Racism




Edward Norton is former Neo-Nazi skinhead Derek Vineyard, freed from three years incarceration for manslaughter after killing two black youths; after reforming himself in prison he tries to dissuade his younger brother Danny from following in his footsteps. Told in flashbacks. Edward Norton received an Oscar nomination for Best Actor.
[watch trailer]
CAST
Edward Norton
... Derek
Edward Furlong
... Danny
Fairuza Balk
... Stacey
Stacy Keach
... Cameron
Jennifer Lien
... Davina
Elliott Gould
... Murray
William Russ
... Dennis
Ethan Suplee
... Seth
Joe Cortese
... Rasmussen
Guy Torry
... Lamont
Giuseppe Andrews
... Jason
Antonio David Lyons
... Lawrence
Keram Malicki-Sanchez
... Chris
Jordan Marder
... Curtis
Nicholas Oleson
... Huge Aryan
Anne Lambton
... Cassandra
with
Avery Brooks
... Sweeney
Beverly D'Angelo
... Doris
Jason Bose-Smith
... Little Henry
Alex Sol
... Mitch McCormick
Michelle Christine White
... Lizzy
Jonathan Fowler, Jr.
... Jerome
Chris Masterson
... Daryl Dawson
Paul Le Mat
... McMahon
Tommy L. Bellissimo
... Cop #2
Cherish Lee
... Kammi
Sam Vlahos
... Dr. Aguilar
Tara Blanchard
... Ally
Steve Wolford
... Reporter
Richard Noyce
... Desk Sergeant
Danso Gordon
... Buddy #1
Jim Norton
... Randy
David Basulto
... Guard
Alexis Rose Coen
... Young Ally
Kiant Elam
... Lawrence's Partner
Paul Hopkins
... Student
Keith Odett
... Random Skinhead
Paul Short
... Stocky Buddy
Nigel Miguel
... Basketball Player
REVIEWS
Review by Spencer (posted on 5-Oct-2005)
I saw this movie for the first time a few years back, and it was amazing. I can easily say that this is by far the greatest movie I've ever seen. Well thought out and great acting. Edward Norton is truely amazing in this movie. Despite the negative idea at first glance of skinheads and prison, it has a positive message through it and an all around great idea. Also recommend Fight Club -- another Edward movie.
---
Do you know something we don't?
Submit a correction or make a comment about this profile

Copyright ©2019 Soylent Communications