City of God (18-May-2002)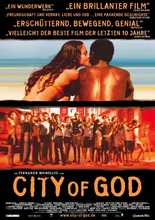 Original Title: Cidade de Deus
Directors: Katia Lund; Fernando Meirelles
Writer: BrŠulio Mantovani
From novel: Cidade de Deus by Paulo Lins




Two young men from a violent Rio de Janeiro neighborhood chart diverging courses in life in a character study spanning several decades.
ABSTRACT
Rio de Janeiro, Brazil, the self-proclaimed "City of God" overwhelmed by rampant crime, drug abuse, and poverty, serves as the tumultuous setting for City of God, a coming-of-age crime drama following Rocket, an aspiring photographer, and his morally-challenged friend as they do their best to manage through life in a city dominated by notorious crime boss Li'l Ze.
REVIEWS
Review by anonymous (posted on 17-Jun-2006)
City of God is a movie about life in a Rio de Janeiro, Brazil slum during the 1960s and 1970s. The narrator of this harrowing tale is a young man by the name of Rocket who carefully watches and chronicles what happens in his neighborhood. Violence, drugs, police corruption, robbery, and many other things are common in the slum, and the movie shows this by skipping around and showing you mini-tales of these common happenings. Tension builds up between the two main drug-dealers in the neighborhood,causing all-out chaos. Young Rocket, an aspiring photographer, captures the struggle to survive in the "Cidade de Deus", as it is in Portuguese, exposing the horrific violence that the police and the government had long forgetten about because they felt these poor people did not matter. In fact, a policeman in the movie simply said, "Let them kill each other." Rated R and based on a true story, I recommend City of God because it offers a unique perspective of life for people living in a different country under different circumstances.
---
Do you know something we don't?
Submit a correction or make a comment about this profile

Copyright ©2019 Soylent Communications