Beverly Hills Cop (5-Dec-1984)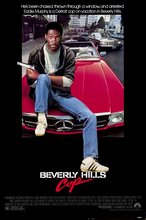 Director: Martin Brest
Writers: Danilo Bach; Daniel Petrie, Jr.
Music by: Harold Faltermeyer
Producers: Don Simpson; Jerry Bruckheimer
Keywords: Crime/Comedy, Los Angeles, Beverly Hills




A police officer (suspended) from Detroit visits Beverly Hills to investigate the murder of his friend, while two local cops watch him to make sure he isn't doing police work. Excellent 1980s comedy is Eddie Murphy's most popular and most likable role. Received an Oscar nomination for Best Screenplay. Two sequels.
[watch trailer]
CAST
Eddie Murphy
... Axel Foley
Lisa Eilbacher
... Jenny Summers
Steven Berkoff
... Victor Maitland
Judge Reinhold
... Det. Billy Rosewood
Ronny Cox
... Lt. Bogomil
John Ashton
... Sgt. Taggart
James Russo
... Mikey Tandino
Stephen Elliott
... Chief Hubbard
Paul Reiser
... Jeffrey
Jonathan Banks
... Zack
Gilbert R. Hill
... Insp. Todd
Art Kimbro
... Det. Foster
Joel Bailey
... Det. McCabe
Bronson Pinchot
... Serge
Michael Champion
... Casey
Frank Pesce
... Cigarette Buyer
Gene Borkan
... Truck Driver
Michael Gregory
... Hotel Manager
Alice Cadogan
... Hotel Clerk
Philip Levien
... Donny
Karen Mayo-Chandler
... Maitland Receptionist
Gerald Berns
... Beverly Hills Cop #1
William Wallace
... Beverly Hills Cop #2
Israel Juarbe
... Room Service Waiter
Randy Gallion
... Bell Hop
Damon Wayans
... Banana Man
Chuck Adamson
... Crate Opener #1
Chip Heller
... Crate Opener #2
Rick Overton
... Bonded Warehouse Night Supervisor
Rex Ryon
... Bonded Warehouse Security Guard
Michael Pniewski
... Bonded Warehouse Clerk #1
Douglas Warhit
... Bonded Warehouse Clerk #2
Paul Drake
... Holdup Man #1
Tom Everett
... Holdup Man #2
Sally Kishbaugh
... Waitress
Barry Shade
... Valet
Jack Heller
... Harrow Club Maitre D'
Michael Harrington
... Harrow Club Arresting Officer
David Wells
... Dispatcher
Scott Murphy
... Det. Owensby
Dennis Madden
... 1st Detroit Cop
John Achorn
... 2nd Detroit Cop
John Pettis
... 3rd Detroit Cop
Nick Shields
... Detroit Station Cop #1
Carl Weintraub
... Detroit Station Cop #2
Anthony De Fonte
... Detroit Station Cop #3
Darwyn Carson
... Barmaid
Mark E. Corry
... Pool Player
Thomas J. Hageboeck
... Maitland Body Guard
REVIEWS
Do you know something we don't?
Submit a correction or make a comment about this profile

Copyright ©2019 Soylent Communications