Goodfellas (19-Sep-1990)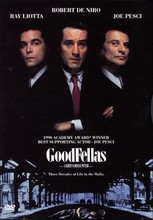 Director: Martin Scorsese
Writers: Nicholas Pileggi; Martin Scorsese
Based on a book: Wise Guy by Nicholas Pileggi (biography)
Keywords: Crime, Biography, True Crime, Organized Crime, New York, Brooklyn, Prison, Drug Smuggling, Cocaine, Arson, Explosions




Story based on the life of mobster Henry Hill, and his involvement with the Lucchese mafia family from a very early age. Half-Irish, Hill could never become a "made man", but he was a man who "knew literally, where the bodies were buried." Joe Pesci won Best Supporting Actor Oscar portraying the mentally unstable Tommy DeVito; the film received five other nominations including Best Picture and Best Director.
[watch trailer]
REVIEWS
Review by Vamsee (posted on 21-Feb-2005)
Considered as one of Martin Scorsese's best movies ever, Goodfellas ranks as the best mob movie, if only after The Godfather. This is a typical Scorsese sytle movie with background voices, flashbacks, radical camera use and lots of foul-language and violence.
Henry Hill is Irish-Sicilian and grows up in a rough neighbourhood. He always dreamt of being a gangster, which according to him, is better than being the President of United States. He works for Paulie, a local boss. Henry meets Jimmy Conway (Robert De Niro), a kidnapper, hijacker and a murderer, among other things. Jimmy teams up Henry with Tommy (Joe Pesci), a big-mouthed Italian. Together, they hijack cargo trucks and have a comfortable life.
The Goodfellas (Henry, Tommy and Jimmy) plan and pull-off a robbery. But bodies are being discovered every where as Tommy and Jimmy "whack" everyone involved. Tommy is killed as revenge for the death of a "made" guy (mafioso). Henry's options are getting narrower. Will he remain a Goodfella? The life of luxary he dreamed of as a child now pushes him into an abyss from which there seems to be no escape.
---
Do you know something we don't?
Submit a correction or make a comment about this profile

Copyright ©2019 Soylent Communications