Monty Python's The Meaning of Life (1-Apr-1983)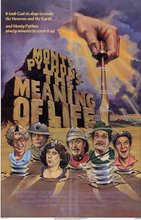 Director: Terry Jones
Writers: Graham Chapman; John Cleese; Terry Gilliam; Eric Idle; Terry Jones; Michael Palin
Keywords: Comedy, Comedy Sketches, Obesity




In their final film, the Monty Python troupe explores three stages of life: birth, growth, and death. Sketches include "Every Sperm Is Sacred", "Live Organ Transplants", and most infamously, "Mr. Creosote." Won Prix du Jury at the Cannes Film Festival. Includes the outstanding short The Crimson Permanent Assurance (1983).
[watch trailer]
REVIEWS
Review by Dave Meloche (posted on 18-Sep-2005)
Monty Python fans will love this one...
This movie takes pot shots at childbirth, Catholic methods of birth control, Corporate America's compassion for Older Workers, and a lot more... including sex ed; a Soccer match, the way a person dies, and more...
The "best" (?) scene in the picture is the World's Fattest Man eating at a familiar Dining Establishment... You will Laugh and gag at the same time on this scene...HILARIOUS!
If you are not a Python fan, you will be before it's over, or "I AM DEATH" will get you, period! A Great film in the Monty Python Humor genre...
---
Do you know something we don't?
Submit a correction or make a comment about this profile

Copyright ©2019 Soylent Communications