The Waterboy (6-Nov-1998)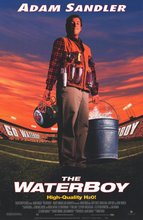 Director: Frank Coraci
Writers: Tim Herlihy; Adam Sandler
Keywords: Sports Comedy, Football, Retards




In 2001, the estate of the late Harold Lloyd sued the Disney studio, alleging that The Waterboy was an uncredited remake of Lloyd's 1925 silent The Freshman. In the films, Adam Sandler and Lloyd played nerds who were waterboys at college football games, and the Lloyd family listed 55 other shared plot points. Disney refused to settle, and a U.S. District Court ruled that there was "no substantial similarity" between the films.
REVIEWS
Review by anonymous (posted on 12-Mar-2006)
Adam Sandler plays a great part in this movie. Even if you know him from other films, in this one he is very convincing in his act to be slightly retarted. It's a great film for favourite old time actors too. Henry Winkler, who all you Happy Days Watchers know. Jerry Reed, my favourite actor. Whenever I've seen Jerry play the part of a villan or a bad guy, he still gives you the impression that he has a nice side to his charachter. I think Red, although his charachter was of a fired up angry football coach, must have gone home at nights and been a loving husband and father. This movie has some very comical moments too. It made us laugh lots through most of it.
---
Do you know something we don't?
Submit a correction or make a comment about this profile

Copyright ©2019 Soylent Communications