Secret Window (12-Mar-2004)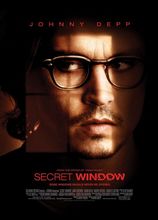 Director: David Koepp
Writer: David Koepp
From novella: Four Past Midnight: Secret Window, Secret Garden by Stephen King
Music by: Philip Glass
Producer: Gavin Polone
Keywords: Thriller




A celebrated writer is terrorized by a man accusing him of plagiarism.
ABSTRACT
Adapted from a Stephen King novel of the same name, Secret Window centers on Mort Rainey, a celebrated mystery writer tracked down by John Shooter, an unbalanced author accusing him of plagiarizing one of his story ideas. Now, with time running out and the possibly psychotic Shooter's threats growing increasingly violent, Rainey must gather evidence pointing to his authoring his story first before his life is placed in jeopardy.
CAST
Johnny Depp
... Mort Rainey
John Turturro
... Shooter
Maria Bello
... Amy Rainey
Timothy Hutton
... Ted Milner
Charles Dutton
... Ken Karsch
Len Cariou
... Sheriff Dave Newsome
Joan Heney
... Mrs. Garvey
John Dunn Hill
... Tom Greenleaf
Vlasta Vrana
... Fire Chief Wickersham
Matt Holland
... Det. Bradley
Gillian Ferrabee
... Fran Evans
Bronwen Mantel
... Greta Bowie
Elizabeth Marleau
... Juliet
Kyle Allatt
... Busboy
Richard Jutras
... Motel Manager
Kevin Woodhouse
... Public Works Guy
Vito De Filippo
... Public Works Guy
Sarah Allen
... Sheriff's Niece
Chico
... Himself
REVIEWS
Review by Vamsee (posted on 21-Feb-2005)
Johnny Depp is Mort Rainey, a successful writer. Rainey catches his wife in bed with another man and walks away. He's awaiting a painful divorce and decides to spend some time alone. He retreats to his remote lake house in some quiet country and tries to concentrate on writing.
Just when everything is going fine, a stranger appears at this doorstep and introduces himself as a certain Mr. John Shooter from Mississippi. Shooter accuses Mort of plagiarism. Mort maintains that he wrote his story a full 2 years before Shooter's claimed year of 1997 (Mort's story appears in a magazine in 1995). Shooter gives Mort 3 days to get the original magazine with the story. But just then, strange things begin to happen and people die.
What's going on? Who's the killer on loose? Who killed a private investigator hired to protect Mort from Shooter? Who tore the story out of the original magazine? A lot of questions now surroud a lonely and helpless Mort Rainey and will he be able to find the answers just quick enough to stay alive?
A brilliant story is ruined by rather mediocre finishing. As usual, Johnny Depp is great with his "face-acting" and none of the other roles have much to show for. OK for a lazy afternoon but stricly no for a copy in your collection.
---
Do you know something we don't?
Submit a correction or make a comment about this profile

Copyright ©2019 Soylent Communications