The Day the Clown Cried (1972)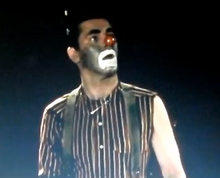 Director: Jerry Lewis
Writers: Joan O'Brien; Charles Denton; Jerry Lewis
Producer: Nat Wachsberger
Keywords: Dark Comedy, WWII, Holocaust, Nazis, Clowns
Helmut Dorque, a once-famous German circus clown makes a disparaging remark about Hitler; he is overheard and sent to a concentration camp as a political prisoner. Later Dorque is inadvertently transferred to a death camp, where officials force him to march Jewish children into the gas chamber. This comedy has never seen the light of day, though one can get a sense of it from a 1972 Belgian broadcast of Première-magazine. Harry Shearer, who has actually seen the film, explains "the closest I can come to describing the effect is if you flew down to Tijuana and suddenly saw a painting on black velvet of Auschwitz."
| Name | Occupation | Birth | Death | Known for |
| --- | --- | --- | --- | --- |
| Harriet Andersson | Actor | 14-Feb-1932 | | Dogville |
| Anton Diffring | Actor | 20-Oct-1918 | 20-May-1989 | Where Eagles Dare |
| Serge Gainsbourg | Singer/Songwriter | 2-Apr-1928 | 2-Mar-1991 | Je t'aime ... moi non plus |
| Jerry Lewis | Comic | 16-Mar-1926 | 20-Aug-2017 | Muscular Dystrophy Association |
REVIEWS
Review by Michael Corda (posted on 6-May-2007)
This was no easy film to get. I have it on a rather inferior VHS tape but then it's suitable for the material. Jerry took all this very seriously and it is if in an offensive, patronizing way where Jerry meant well and led us predictably down the path to hell. He plays a clown in wartime (WWII) central/eastern Europe hired or forced by the Nazis to entertain little undesirables before the are gassed to death with Zyklon gas. Charming! Why they would bother to put on an entertainment show for them escaped me. He wrestles with his conscience and is not a happy clown. In the end he is sent off on one of the many trains to die in the camps with the kiddies. How uplifting indeed! This could have been done well with Jewish Lewis giving special insight but it backfired (suprise) so badly,it was never released and only a snippet is viewable on the internet. Awful,depressing, all gone awry!
---
Do you know something we don't?
Submit a correction or make a comment about this profile

Copyright ©2019 Soylent Communications