Ocean's Eleven (5-Dec-2001)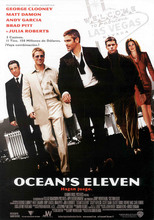 Director: Steven Soderbergh
Writer: Ted Griffin
Music by: David Holmes
Producer: Jerry Weintraub
Keywords: Crime/Comedy, Las Vegas, Heist, Explosions




Modern Hollywood remake of the Rat Pack's Ocean's Eleven (1960). Danny Ocean, now out of jail, gathers together a team of 11 to simultaneously heist the $160M take of Terry Benedict's three casinos. Furthermore, Oceans wants to steal his ex-wife back, who is presently Benedict's girlfriend. In keeping with the original, the majority of the film is spent on planning. Nothing terribly original, but decent entertainment.
CAST
George Clooney
... Danny Ocean
Matt Damon
... Linus
Andy Garcia
... Terry Benedict
Brad Pitt
... Rusty Ryan
Casey Affleck
... Virgil Malloy
Scott Caan
... Turk Malloy
Eddie Jemison
... Livingston Dell
Bernie Mac
... Frank Catton
Shaobo Qin
... Yen
Carl Reiner
... Saul Bloom
Julia Roberts
... Tess Ocean
Cecelia Birt
... Board Member #1 (voice)
Paul L. Nolan
... Board Member #2 (voice)
Carol Florence
... Board Member #3 (voice)
Lori Galinski
... Blackjack Dealer
Mark Gantt
... Bartender
Timothy Paul Perez
... Security Guard ("Oscar")
Elliott Gould
... Reuben Tishkoff
Frank Patton
... Lockbox Carrier
Jorge R. Hernandez
... FBI Man #1
Tim Snay
... FBI Man #2
Miguel Perez
... Explosives Cop
Lennox Lewis
... Himself
Wladimir Klitschko
... Himself
Barry Brandt
... Technician #1
William Patrick Johnson
... Technician #2
Robert Peters
... Eye-in-the-Sky Technician #1
David Jensen
... Eye-in-the-Sky Technician #2
Kelly Adkins
... Dancer
Gregory Stenson
... Sentry
Joe LaDue
... Billy Tim Denham
John C. Fiore
... Hotel Security
Tommy Kordick
... Hotel Bellman
Michael DeLano
... Casino Manager ("Walsh")
Charles La Russa
... Italian High Roller
Anthony Allison
... French High Roller
Ronn Soeda
... Japanese High Roller
Robin Sachs
... Seller
J. P. Manoux
... Aide-de-Camp
Jerry Weintraub
... High Roller
Frankie Jay Allison
... High Roller Pit Boss
James Curatola
... Baccarat Dealer
Henry Silva
... Himself
Eydie Gorme
... Herself
Angie Dickinson
... Herself
Steve Lawrence
... Himself
Wayne Newton
... Himself
Siegfried Fischbacher
... Himself
Roy Horn
... Himself
Jim Lampley
... Himself
Larry Merchant
... Himself
Richard Reed
... Bucky Buchanan
David Sontag
... Plainclothes Goon #1
Larry Sontag
... Plainclothes Goon #2
William Allison
... Guard
Rusty Meyers
... Security Officer #1
Joe Coyle
... Security Officer #2
Scott L. Schwartz
... Bruiser
Richard Steele
... Himself
John Robotham
... Uzi-Carrying Guard #1
Vincent M. Ward
... Uzi-Carrying Guard #2
Scott Clark Beringer
... Head Goon
James Alfonso
... Police Officer
REVIEWS
Review by Michael Lesch (posted on 17-Jul-2009)
Slick and entertaining film that's packed with energetic players and wonderful direction courtesy of Steven Soderburgh. George Clooney and Brad Pitt lead a very likable and humorous crew on a what's perceived as an impossible heist from a Las Vegas casino have security which on a par with Fort Knox. The team assembled is certainly shady given their tarnished backgrounds (accomplished via impressive flashback clips and clever montage sequences which are informative as they are entertaining) and couldn't have less in common personality-wise yet collectively gel into a well-oiled machine which convince you their mission could actually be attainable. Even with the given skeletons present in their respective pasts you still find yourself rooting for these 'bad' guys. Andy Garcia is great as the stooge and ultimate fall guy who gets a deserved comeupance and the added tension of Clooney's team attempting to pull off the caper with unexpected hurdles makes the confusion and chaos a more than welcomed plot entanglement. Great shots of Vegas throughout -- especially the night sequences - and Julia Roberts is very graceful as the independent gal caught in between two demanding men.
---
Do you know something we don't?
Submit a correction or make a comment about this profile

Copyright ©2019 Soylent Communications